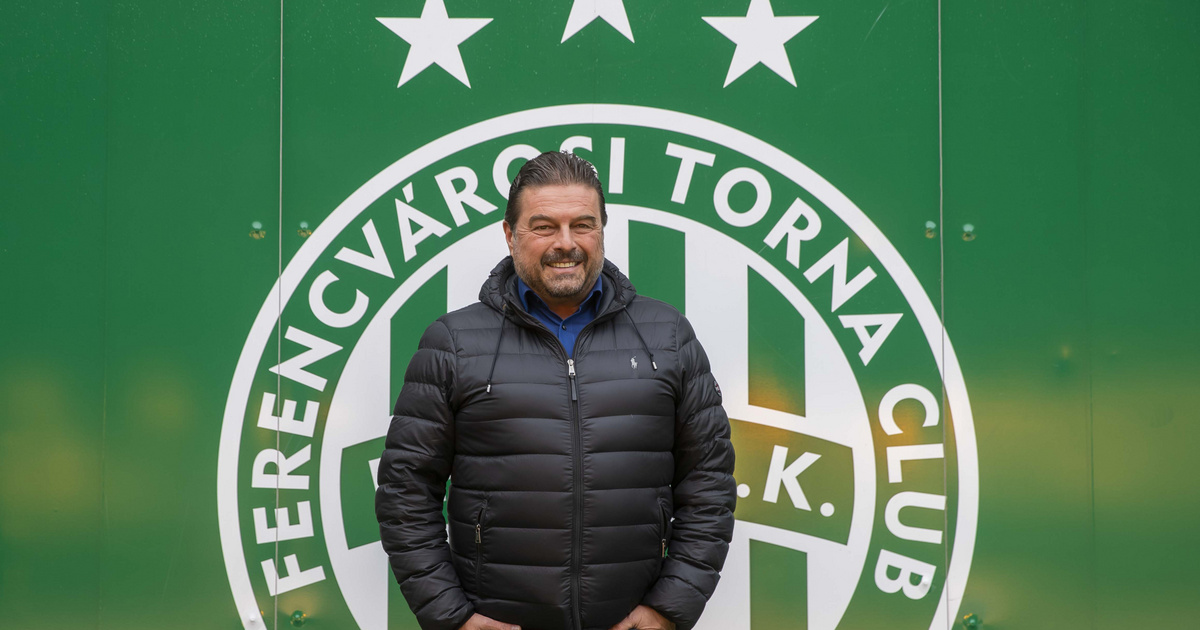 What are the main experiences that Ferencváros has had in reaching the middle of the Champions League group stage?
That this is a completely different coffee house. I've always said that with our current odds and conditions, we are a classic team in the Europa League group round. Of course, that doesn't mean we come in every year, but the background is given, so we hope to reach that relatively often.
BL is a different kind of playground, it is enough just to look at team values, the difference between us and our opponents is huge, and you can see that on the field. I just looked, our budget is about 28 million euros, the Juventus 708, the Barcelona 878, but even the Dinamo Kiev is more than 100 …
So it is unrealistic to talk about winning against them, but of course it is a tremendous experience and pride to be here and represent Hungarian football at the highest level. The great thing is that we have already scored a point, and that our players have been able to play against world stars. For a small child, when he starts playing football, his dream is always to be able to play against the current Messi and Ronaldo, who are now given to us.
What feedback did they get from the defeated teams (Djurgarden, Celtic, Dinamo Zagreb, Molde) or possibly other rivals?
Some people were surprised, there were those who were especially happy to play against us, they sanctified how good it would be, and then it didn't get right … Anyway, the reaction was mixed,
at Celtic, for example, they were greeted with immense love and respect, and although they were extremely disappointed after the blow, they came to us in the stands to congratulate us.
But there was also positive feedback after the matches of the group round, our team was praised by our opponents in Barcelona or just after the defeat against Juventus.
Is it clear that, aside from the round-trip playoff, Fradi benefited from the BL duels in one game?
Our opponents also had to play in the same system, when I look at this they don't, but of course it's always easier to perform in a match than in two. This is one such situation, we had to notice that this year is totally different from the rest and adapt to it. Hopefully these will no longer be there, because let's not believe that, for example, we were happy that our fans could never cheer the team once from the stadium stands. Not to mention the billions of forints lost in revenue plaguing Fradi.
When did you first feel like you could have the Champions League main table again in 25 years?
I've always believed in it because noticeably everyone really wanted this success. Of course, when we had the opponents lined up I didn't have a genuine smile, our draw wasn't easy to say the least, we usually always had the strongest opponent at the moment. Suffice it to mention the Celtic or Dinamo Zagreb, which we burned badly last season. However, the professional staff, led by Serhiy Rebrov, prepared the team well for every game.
I felt a tremendous unity, and that's also thanks to those who don't work on the front line, but do their job in the offices or in the stadium to keep things in order.
That's why I was always optimistic.
Everyone knows that you are the CEO of FTC Football Co., but perhaps less so, what exactly is your role in the life of the association?
This is not one one man show, there are certain titles that take things, but together with top management we make the most important decisions that affect the club.
A good leader, I think, is not about being a good leader because he understands everything, but about finding the people who are some of the best in the field and then making them work. If you have a constant say in their work, you achieve one thing: you stop them.
Of course there has to be some control, but I think Fradi is now working great from that point of view.
What are you most proud of, what do you consider to be the club's greatest success in the last ten years?
Successes have been achieved, but let's say there have also been extremely difficult times.
But perhaps the greatest achievement is where we've come, from where to where.
When we took over the management of the club together with Gábor Kubatov, we agreed to open all the cabinets in the beginning, drop all the skeletons, so that we could build in a completely transparent way with a clean plate. Blissful conditions prevailed, payments ran up for several months, bills were not paid, and now we are here in this beautiful stadium, we have a training center that meets all needs and we have a stable, orderly background. I think we can be rightly proud of that. And professionally, the current group stage of the Champions League is of course our greatest success. Now of course you cannot be satisfied and in this situation, you have to work and develop further.
Is there a glitch you want to erase from your memories? Maybe what you could change after that?
No, precisely because it took every failure to keep us where we are today. Only the one who does not work does not make mistakes, the blows only confirm, tilt to the place to achieve the goals. But the most difficult period was when there was no good relationship between the club and the fans. However, it was also necessary that we now have a clearly fair and cooperative relationship with the camp. Or I have a painful memory when the grapples arrived at the old stadium, and one of them Imperial Walker he dug in and knocked down the stands of the B center section … Of course the arena is great now, when Chelsea came to the opening game the world stars were just amazed,
but there it was as if a piece had also been torn from my heart.
Has the tremendous performance of the past two years and the accompanying cash inflows put the FTC at the top of NB I?
Everyone is talking about income, but let's not forget that we also had a lot of money. Someone recently told me our situation is easy, now € 15 million has fallen with the BL role. What has fallen? We've been working for it for ten years, and if you look at the Hungarian tax rules, you can see how much you have to pay on public finances. We are transferring nearly one and a half billion forints in taxes in the form of UEFA money we received after the amazing BL performance! We're not taking it out, we're putting it in the state treasury, I think it's a pretty significant amount, it's worth fixing this. Of course we won the last two championships with a convincing advantage, and
it is undoubtedly a fact that we got there, which was an explicit goal when we started working: Ferencváros is a champion every year in the Hungarian vanguard.
However, it would be a big mistake to think that we will win the championship titles smoothly from here, also because of our rivals and our own considerations.
While the framework doesn't seem to need to be strengthened, there are always changes. What posts have you been watching the most lately?
I don't like to say posts, I don't want to create unnecessary tension. A fan always wants the player he loves to always stay here. However, a player's frame is in constant flux because for a football player, unlike crowds, a particular team is a station in their individual career. The other problem is that fortunately there is usually also an emotional connection with the association, but when we are talking about a footballer of a quality that is needed elsewhere, we have to take that into account.
Besic, Ramírez, Somalia, Ádám Nagy – just some of the names of those from Ferencváros who are certified for championships higher than Hungarian NB I.
A contract must be concluded with the players so that the club does not misbehave when they leave. On the one hand, on what moral basis do we hinder someone's development, and on the other, in such a case, we would see an absolutely demotivated man on the field who will no longer deliver the performance we were used to before. So we don't get an offer for it the next time we turn it down. But this is already a business whose parameters need to be set so that both parties get it right in the end.
He has repeatedly stated that several people are responsible for the transfers, discussing professional matters with President Gábor Kubatov, sports manager Tamás Hajnal and head coach Szerhij Rebrov. Do they usually agree, or do they not always agree?
In the end, only the one we all nod to gets here. There are, of course, debates, but we always come to a common position. It can't happen that we confirm X, it doesn't work and the pointing finger is going to do what he came here for, you brought him. No. We brought it. And if it is good, we have taken it. That is why these consultations are extremely important.
What is the demand for Ferencváros football players? Were there any top teams interested in high performing players?
I'm sure if the three remaining games in the BL go down and the winter transfer period opens, the market will move. We will most likely receive bids, then we will weight them based on the parameters we just mentioned.
But now that we see both the national team and our performance, we can easily say bigger amounts than say two or three years ago.
Hungarian football has recently reached a higher level than before.
Serhiy Rebrov has just been mentioned and is considered by most to be the foremost blacksmith of success. Although the Ukrainian master also indicated how much he likes to work here, his abilities abroad have probably already been noticed. How long can he be Fradi's coach?
It is difficult to answer this question, but luckily you feel very well with us, and by that I mean not only Ferencváros but also Budapest. Currently this is not a topic at all.
Year after year, the bar is set higher and expectations for the FTC are growing. Could the current situation be intensified and, if so, what could be the next goal?
Above all, we have to win the championship, we can recreate the chance to play in the Champions League again next year. But as I said, I currently consider Ferencváros a group team in the Europa League, where we also proved last year that
that even in an Espanyol, CSKA Moscow, Ludogorec strong quartet, we have a realistic chance of moving forward,
because it was a goal, we were eliminated. Most importantly, we showed ourselves in Europe and we want to stay here!
(Cover photo: Gábor Czerkl / Index)
Source link