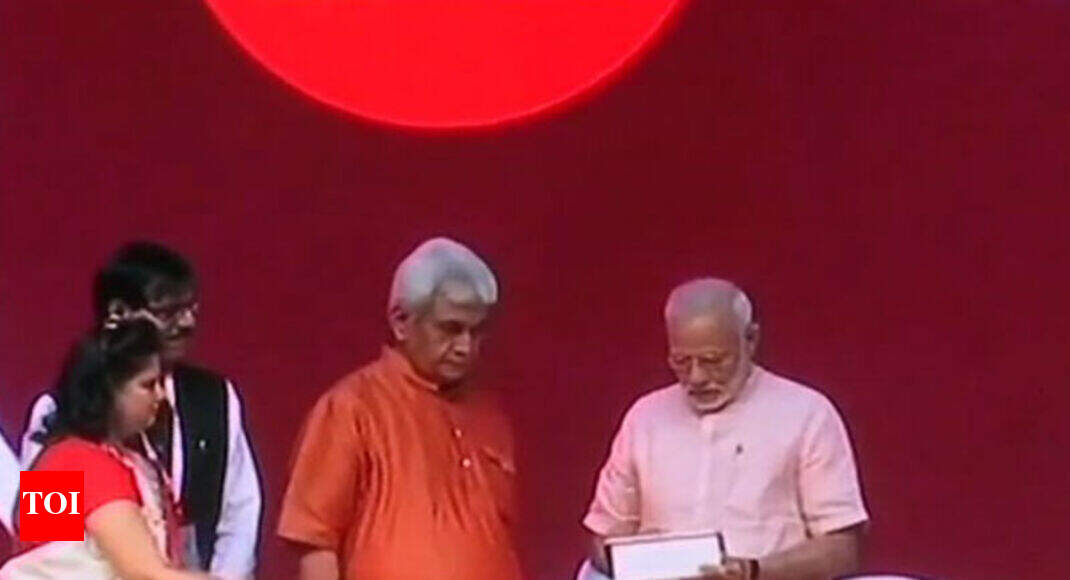 NEW DELHI: Prime Minister Narendra Modi launched the India Post Payments Bank (IPPB) last Saturday to "change the banking system in the country". IPPB offers a range of products, such as savings accounts and current accounts, money transfers, direct benefit transfers, account and utility payments and payments for companies and sellers.
PM Modi, speaking at the event in the Talkatora Stadium in the capital, said: "IPPB is going to make a huge change in the country's economic and social situation and will reach all corners of the country and digital payments."
The Prime Minister added that "IPPB will also be of great help to the farmers and that programs like PMFBY (PM & # 39; s crop insurance system) will get more power out of it."
PM Modi also spoke about rising non-performing assets (NPAs) or bad loans in the banking sector and accused the previous UPA government of the mess.
What is IPPB: The India Post Payments Bank (IPPB) is a public corporation under the ministry of post and ministry of communication with a 100% equity of the Indian government and is managed by the Reserve Bank of India (RBI).
How it will work: It will focus on providing banking and financial services to people in rural areas by connecting all 1.55 lakh post offices (that is, almost 2.5 times the banking network) to India Post Payments Bank services by the end of the year. 2018. About 11,000 postal workers in both rural and urban areas offer banks at their doorstep.
This creates the largest bank network in the country with a direct presence at village level. IPPB has approximately 17 crore postal savings bank accounts linked to its accounts.
IPPB offers three types of savings accounts: ordinary savings accounts, digital savings accounts and basic savings accounts. The annual interest rates on all three have been set at 4 percent. IPPB can also accept deposits up to Rs 1 lakh per account of individuals and small businesses, and facilitate transfers of funds to other bank accounts and other services. In addition, you can also pay for services from approximately 100 companies (including telephone and DTH charging points) that are present in the Bharat Bill payment system of the National Payments Corporation of India.
IPPB was launched with 650 branches in addition to 3,250 access points located in the same post. Two pilot IPPB branches were inaugurated on 30 January 2017 in Raipur and Ranchi.
Suresh Sethi is the managing director and chief executive officer of IPPB.

Source link