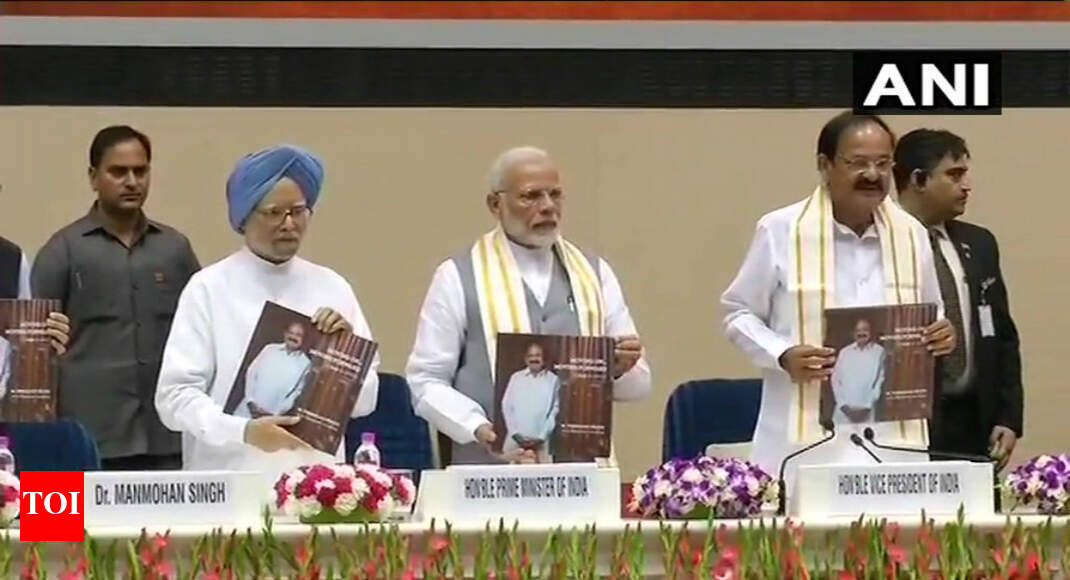 NEW DELHI: At the launch of his new book "Moving On … Moving Forward: A Year in Office", Vice President M. Venkaiah Naidu expressed his concern about the poor functioning of Parliament and the exhaustion of the agricultural sector .
The vice-president requested the Minister of Finance to pay more attention to the agricultural sector and said that there should be a prejudice in favor of the agricultural ministry.
"There is a need for sustainable support for agriculture, Minister of Finance is here, he may not like what I say, because he has to take care of everyone, but there must be a preference for agriculture in the coming days, otherwise people will leave farming if it is not profitable, "said VP Naidu.
Vice President Naidu said that while he is satisfied with how the country is progressing on other accounts, repeated repeals in Parliament are non-productive.
"I am a bit unhappy that Parliament is not functioning as it should." It's really going for everything else: World Bank, ADB, the World Economic Forum, whatever ratings they give is heart-warming. All Indians have to be proud of what's happening on the economic front, "said Vice President Naidu.
During the launch of the public PM Modi congratulated the vice president and said that the book is commendable because it acts as a report card for VP Naidu's first office year.
It is commendable that @MVenkaiahNaidu Ji has presented a kind of report letter about his first office year, continued … https://t.co/YqfnXHE2xZ

– PMO India (@PMOIndia) 1535869420000
Recalling how Vice President Naidu wanted to become the minister of rural development when Atal Bihari Vajpayee later became prime minister, Prime Minister Modi said that vice president is a farmer in heart and soul.
Atal Ji wanted to give @MVenkaiahNaidu Ji a service. Venkaiah Ji said – I want to be the minister for rural development … https://t.co/oosgljI9mu

– PMO India (@PMOIndia) 1535869163000
While the former prime minister dr. Manmhan Singh congratulated the vice president on a successful year, he said the best is yet to come.
"He takes part in the position of vice president, political and administrative experience and that is amply reflected in his 1-year job, but the best is yet to come," said Dr. Singh.
Allama Iqbal, Dr Singh, who quoted the then poet, said that there is much more to achieve for the vice president.
"Sitaron ke aage jahan aur bhi hain, abhi ishq ke imtehaan aur bhi hain," Dr. Manmohan Singh.
The book of 245 pages with seven chapters entitled Moving on … Moving Forward: A Year In Office & # 39; with 465 illustrations, Naidu's mission of engagement on four major issues with various stakeholders across the country is emerging and is in the making in line with the mission of a new India.
The vice-president stated in the book that his mission to explore and shape the public discourse on four major issues brought him on extensive journeys through the country, since he was sworn in on 11 August last year. He identified these core themes as: – unrealized demographic dividends, need for an effective ecosystem for farmers to promote and bridge the gap between rural and urban areas, promote scientific progress to improve people's lives and make public aware of the rich Indian heritage and give national impetus pride in the pluralistic, inclusive, harmonious world view of the country.
The book also contains a detailed chapter on various initiatives he has taken as chairman of Rajya Sabha and refers to the fast-growing viewership of Rajya Sabha TV.
Former prime ministers Deve Gowda and Dr Manmohan Singh, Lok Sabha Speaker Sumitra Mahajan, Union Ministers Arun Jaitley and Ananth Kumar and leader of the opposition in Rajya Sabha Ghulam Nabi Azad were among the valued guests at the launch of the book.
(With input from agencies)

Source link