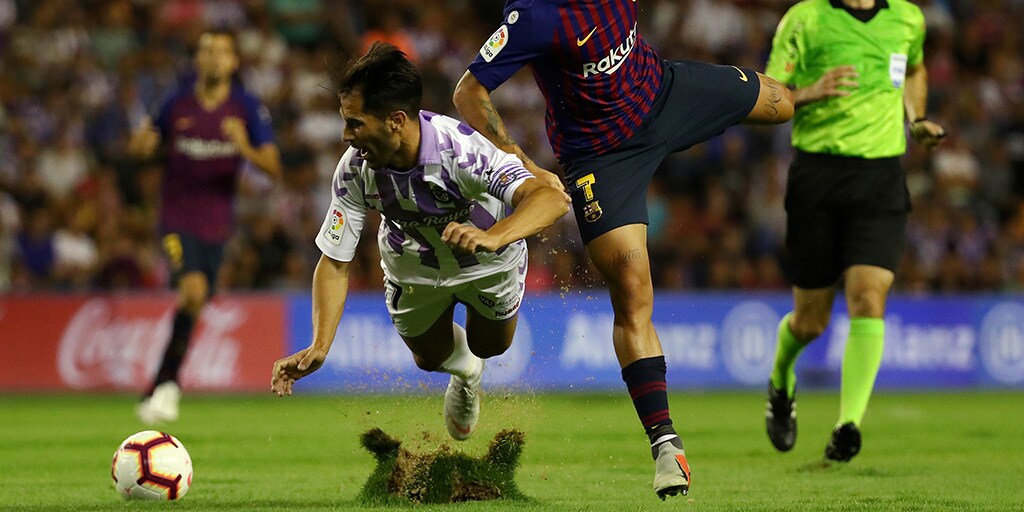 Madrid: La Liga has opened an investigation into the field in the Jose Zorrilla stadium of Real Valladolid after their 1-0 loss against Barcelona on Saturday.
The field, which began to tear during the warm-up, was only laid on Tuesday and had a heavy impact on the game as a spectacle.
Players from both sides struggled to control the ball and Barca was unable to implement their usual style of override, with the game occasionally ending up in a farce as players had to replace whole pieces of grass that had been driven out.
"After the conclusion of the match between Valladolid and Barcelona, ​​a disciplinary case will be opened to clarify who is responsible for the state of the pitch in the Jose Zorrilla stadium that does not meet the minimum conditions of the competition," said La Liga. in a statement.
La Liga president Javier Tebas said on Twitter during the match that the field "did not meet the minimum criteria required for a match like La Liga."
Valladolid coach Sergio Gonzalez said the club had done everything to get the pitch ready. "We were the last team to be promoted and we had problems getting the pitch ready on time", he told a press conference.
"The club and the staff did everything possible and you just had to adapt to the circumstances, Valladolid did everything they could and nobody wanted the pitch to be that way," he added.
Local media mocked the state of the field and called it a "potato field", while the Barcelona players were furious and expressed frustration after the game.
"It was unfortunate," said defender Gerard Pique, adding, "I hope that the executives get their house in order and solve it, because it is unfortunate."
His opinion was repeated by teammate Sergio Busquets. "With the pitch as it was, it was really hard to play, it is unfortunate that the best competition in the world is played in these conditions, there were areas that looked more like a beach." It is unbelievable that no one from La Liga found that they had to come to see the grass, you can not play on that, "Busquets said.
According to media reports, Barca would also file a formal complaint with the union. The champions also complained about the length of the grass when they last visited Valladolid in 2014 after a 1-0 defeat.
Source link