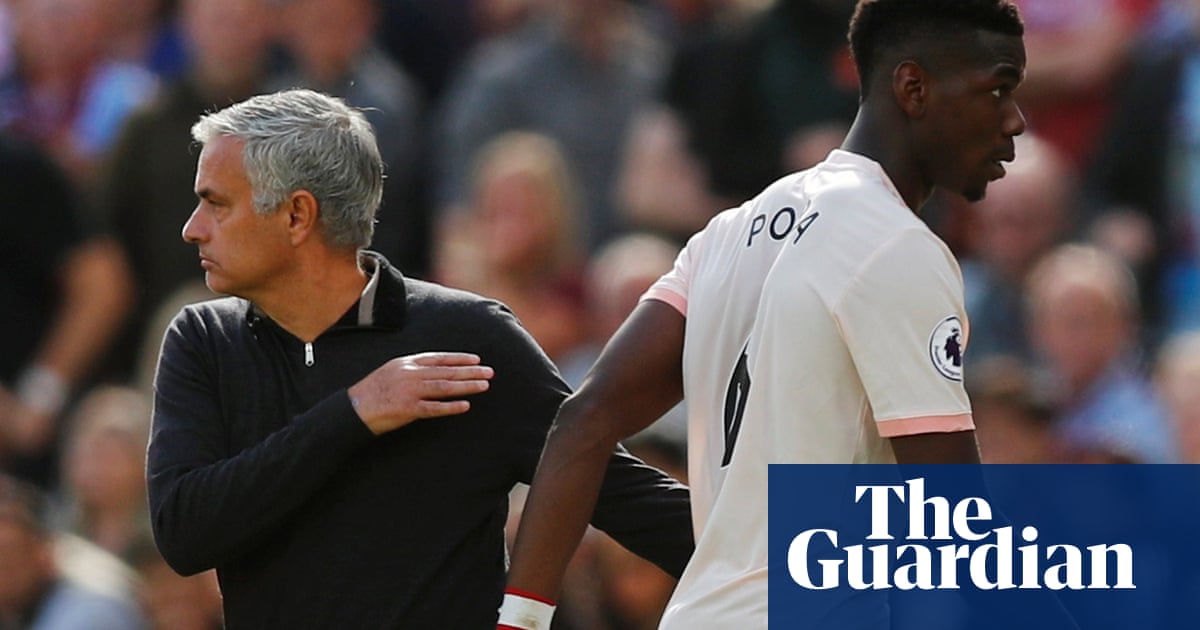 PAul Pogba was the last player of Manchester United out of the changing room at the London Stadium. The Frenchman smiled and for a tempting moment it seemed that he would commit when a group of hopeful journalists asked for a quick chat. But after turning around to see who called his name, Pogba shook his head, laughed and asked a question: "Do you want me to die?"
Point made. With José Mourinho already in his team seat, Pogba's decision to postpone the trip back to Manchester was probably the best. He chose to keep running instead of adding more fuel to the fire that would blew United's season. At the end of an eventful week in which Mourinho told Pogba that he would never captain United again and shared an icy exchange with the £ 89m midfielder during the training, it felt like a time to close the ranks.
Yet it was impossible to read Pogba's attitude as a token of support for his manager. His joke about signing his own death warrant only served to underline the disagreement at United. They are a mess at the moment and after it was made clear that no player could ever be bigger than the club last week, Mourinho sent another message by replacing Pogba in the 70th minute of the 3-1 loss against West Ham on Saturday .
Any looking Barcelona explorer would not have been impressed by Pogba's latest matte display. Mourinho has the right to claim that the 25-year-old must view himself before re-analyzing United's tactics. But while Pogba does not play as a world champion, his performances are part of a broader malaise at Old Trafford.
After all, it was Mourinho who set the tone with his grumbles during the season. No manager can critically criticize his players in public and hope to get away with it. Yet it was Mourinho who had Phil Jones and Eric Bailly to dry after the defeat of the Carabao Cup against Derby County last week and the Portuguese who questioned the mentality of his team against West Ham.
United has no plans to get rid of Mourinho, and certainly not prior to the visit of the Champions League on Tuesday to Valencia, but the negativity is unmistakably exhausting.
United tried to retire in the match after Felipe Anderson's early goal for West Ham, but their football was beige. Manuel Pellegrini's side was ever a problem, and doubled their lead as Andriy Yarmolenko's shot went off on the right after 43 minutes.
Mourinho had dropped Alexis Sánchez and Jesse Lingard from the team and Scott McTominay on the right side of a behind-three. But United, who must improve against Valencia, was confused and difficult in the 3-5-2 system. Marcus Rashford halved the deficit after replacing Lindelof but Marko Arnautovic killed Mourinho's side in the 74th minute.
"If you want the truth, I think it's terrible," Luke Shaw said. "We did not look like a team that would beat West Ham today, I think we were horrible individually and as a team, that's not good enough, it's hard to take and we're sorry for the fans for what they do today. It was not good enough of a Man United team with all the talent we have.
"From the first moment you could see that we did not win the second balls and our duels, it's hard to take in. Games like this, we have to dominate, create opportunities, show people why we deserve to play for Man United and that did not happen today, it was very poor of us.
"We have to consider ourselves as players, we are the ones on the field, the manager is not on the field, right? He is there to set up a team that he thinks can win the game. a very strong team, no apologies, as players we were not good enough. "
For all that individual quality, United is in 10th place after seven matches. They are nine points behind Manchester City and Liverpool, seven behind Chelsea and five behind Arsenal and Tottenham Hotspur. They are below Bournemouth on goal difference and closer to the relegation zone than the first place. Maybe there is nothing left for Pogba to say.
Source link