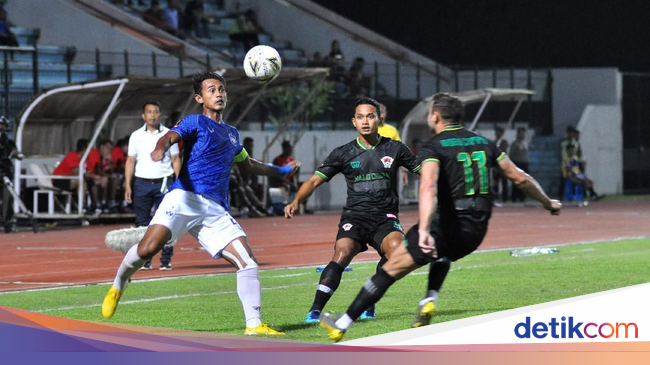 Jakarta – PSIS Semarang has a promising front line composition to navigate through the 1st League 2019. They also succeeded in repatriating Septian David Maulana.
PSIS could finish in 10th place in the 2018 League 1 title. At that time, Mahesa Jenar who was in the status of a promotion team had to stumble at the start of the season.
The relegation zone is known by the pride of the Atlas City team. But the arrival of Jafri Sastra in the middle of the season changed the fortunes of PSIS.
This man from West Sumatra was able to increase the performance of Hari Nur Yulianto et al. Cold hands Jafri will still be trusted by PSIS in the 2019 League 1 title.
The former coach of Semen Padang will be equipped with a team that is slightly better than last season. The combination of old players and new recruits is expected to make the PSIS stronger this season.
Septian David Maulana Returns Village
Indonesian League Champion V recruits brand new names that are promising enough to wade through League 1 2019. They managed to bring three players with the Indonesian national team label, namely Arthur Bonai, Septian David Maulana and Fredyan Wahyu (national team U-23).
While for foreign players, four new PSIS names will be defending this season. It is Wallace da Costa, Matsunaga Shohei, Patick Mota and Silvio Escobar who have just been borrowed from Persija Jakarta.
Of these newer players, the work of Septian seems to be the most expected by PSIS supporters. Article This 22-year-old man was born and born in Semarang.
He returned to his homeland after building a glorious reputation with Mitra Kukar and the Indonesian national team. Septian is likely to be a motorcycle for PSIS attacks in League 1 2019 with its capacity.
But if you look at his appearance in the Presidential Cup, this 29-numbered player still seems to be adapting better to his new team. He failed to show the best performance by not scoring in three games with PSIS.
In the 2019 Presidential Cup, PSIS were eliminated in the group stage. They collected six points after winning 1-0 against Kalteng Putra and PSM Makassar, as well as 1-3 loss to Persipura Jayapura.
Scary Front Line composition
In the 2019 season PSIS had to lose last season's top scorer, Bruno Silva. But Silva left immediately and tried to be covered by the presence of Shohei and Escobar.
Both attackers were quite fruitful with their team last season. Shohei reported from Soccerway and scored 14 goals with Persela Lamongan and PSMS Medan, while Escobar scored six goals with Perseru Serui.
Shohei and Escobar will be combined with Captain Mahesa Jenar, Hari Nur, who became the mainstay of PSIS last season for his 10 goals. We must look forward to the progress of the trio with support from Septian at PSIS.
Since the player's material is there, PSIS appears to be a problem for major League 1 teams. Surprise is not impossible to be presented by Jafri Sastra & # 39; s children.
(PUR / CAS)
Source link