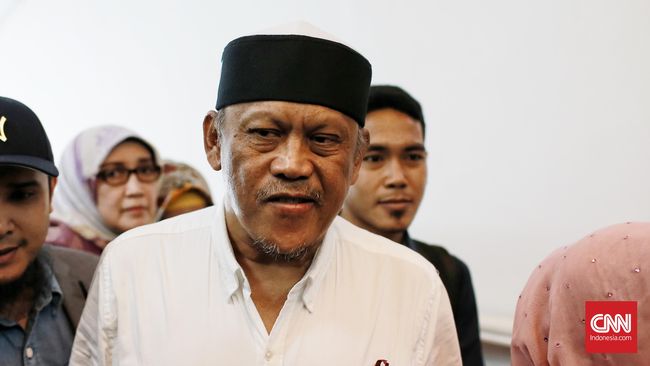 Jakarta, CNN Indonesia – Suspect of alleged cases of betrayal Eggi Sudjana ask the president Joko Widodo ensure justice for matters that stand in their way. Eggi is currently a suspect in a suspicious case attack,
Eggi said that if he was detained after today's investigation, the police would have committed criminalization. He said that President Jokowi could prevent him from being arrested.
"If this detention is criminalized, the National Police is not a promoter (professional, modern and reliable) and Jokowi can instruct the National Police Chief not to be imprisoned if he is a democratic I'm here, "Said Eggi at the Metro Jaya Regional Police, Monday (13/5).
Eggi rejects the idea that the president may not intervene in the legal process. According to Eggi, the president can intervene because he is the leader of the country.
"So don't use that excuse anymore, you can't intervene, you don't forget the leader in this country, you are the head of the National Police, the TNI and all the armed forces, your commander can be ordered. That is instruction," he said .
The police have put Eggi Sudjana as a suspect in criminal cases against state security or betrayal.
Chief Public Relations of the regional police of Metro Jaya, Sr. Comr. Argo Yuwono, said that Eggi's status as a suspect was established after the investigator conducted the case.
In addition, the determination of suspects is also based on preliminary evidence consisting of witness information, videos & news in online media.
"Determination of suspects is based on preliminary evidence, namely investigation of six witnesses, four expert information, evidence such as videos & news in the media online, "Argo said last Thursday (9/5) at the Metro Jaya Regional Police Headquarters.
Eggi confirmed the status of the suspect by stating that the police had conducted his own report development against him, filed by the reporter named Suriyanto.
Through his lawyer, Eggi also officially submitted a probationary period regarding the status of the suspect in the alleged treason.
The case that Eggi imprisoned began with a report regarding his statement people power. Eggi said that when giving a speech to the house number of the presidential candidate 02 Prabowo Subianto, Jalan Kertanegara, Kebayoran Baru, South Jakarta.
At that time, from a viral video, Eggi gave a speech: "I heard that God wants it, after 7 or 8 hours it will be officially announced whether there is a serious fraud than the analysis performed by our leader, namely Amien Rais people power has to be done. Once? Dare? Brave? & # 39;
"If so people power That happens, we don't have to follow the context of the phases, because this is already the sovereignty of people, even this can be a way of Allah to speed up Prabowo to be installed. You don't have to wait until October 20. This is power people powerIf God wants it, "the footage from the video from Eggi & # 39; s explanation for the house of Prabowo was viral. (dis / delete)
Source link