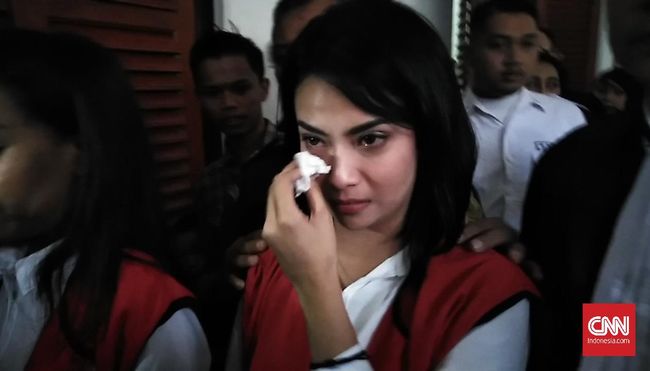 Jakarta, CNN Indonesia – Lawyers for suspects in case of violation of the ITE law with regard to the distribution of immoral content Vanessa Angel reported seven East Java regional police (Polda) investigators (East Java) for the profession and security (Propam) of the national police headquarters.
Vanessa & # 39; s lawyer, Milano Lubis, said the report was submitted because there were a number of irregularities in the process of investigating the case that trapped his client.
"We reported today to National Police Headquarters. Propam counted if it wasn't wrong at 1:00 am. And we reported seven investigators," he said after a hearing at Garuda Room 1, District Court in Surabaya, Tuesday ( 5/14).
When asked about the report submitted against seven East Java regional police investigators, he was reluctant to explain it. Milan claimed to have submitted the full investigation process to investigators from the national police headquarters.
"We don't want to talk here, that's the realm of the national police headquarters investigating, we believe the national police headquarters will be opened, whether the investigators are wrong or not, if something is wrong, sanctions are given, "he said.
Milano considers this report to be very important, because this case cannot only be for Vanessa, but if everyone in Article 27 paragraph 1 can be trapped and found guilty.
Milano went further, this case was only a private chat and could not be sentenced. This is like the fact of the previous trial, in which witness investigators said there was no distribution of immoral social media content, only between Siska (muncikari) and Vanessa.
"That is the form of private chat. If this is punished, it can be case law for other cases, this is very dangerous," Milan regrets.
Meanwhile, after undergoing the test, Vanessa herself came up with a happy expression. With a white veil and accompanied by a team of lawyers, artists from Film Television (FTV), it seemed friendly to answer questions from the media team.
Vanessa hopes that the panel of judges can decide this case as fairly as possible. "Yes, I hope the judge makes the best decision for me," in short.
At the next hearing, on Thursday (23/5), the lawyer will associate ITE expert witnesses and witnesses with the Vasa Hotel, Surabaya.
Meanwhile, Frans Barung Mangera, head of the regional police public relations commissioner for East Java, said he would hand the matter over to the national police headquarters.
"The report is the authority of the headquarters (Polri), we already know the report," Barung said when it was confirmed.
[Gambas:Video CNN] (frd / ugo)
Source link