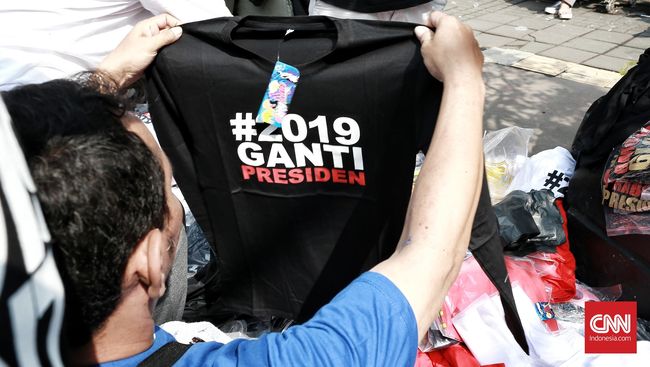 Jakarta, CNN Indonesia – Surabaya Polrestabes dissolved the statement action # 2019 Change president in the capital of the province of East Java, Sunday (8/26), for fear of clashes between the mass of the pros and cons of the movement.
Inter-mass collisions, both supporters of statement # 2019antiPresident and community organization Pemuda Pancasila (PP), Banser, Ansor Youth Movement, and the people of Surabaya occurred almost before the East Java Provincial DRPD bureau, Jalan Rajawali Surabaya, when the police did not stop.
"Let's love Surabaya, let's get together, all are dissolved, I'm the one responsible," said Kapolrestabes Surabaya Chief Commissioner Rudi Setiawan quoted between,
But on Jalan Indrapura, which is not far from the Tugu Pahlawan area, chaos happened between the two masses. They could push each other before the policemen finally separated.
Rudi said he had appealed since yesterday, so the two masses would abandon and keep Surabaya favorable.
Regarding the dissolution of the statement, said Rudi, the police only enforce the rules.
"Alhamdulillah, everything is over, both parties have been dissolved and the situation in Surabaya is safe again," he said.
The police Surabaya to be safe. For that reason, all parties, irrespective of their ambitions, Rudi continued to pay attention to the prevailing regulations and ensure that Surabaya is conducive.
"We give priority to negotiations and other phases." I have instructed all members to secure the city of Surabaya to anticipate events to continue, "he said.
The declaration # 2019GantiPresident has been canceled in Surabaya on Saturday (8/26) after receiving the refusal of the anti # 2019 masses. The two masses between the pro and the anti-riots were chaotic. They were involved in encouraging each other, but could be separated by the police.
The police then dissolved the two anti-and pro masses # 2019 replace the presidential. Given that the police have not issued a permit for the declaration of this movement in Surabaya from the beginning. (osc / sur)
Source link