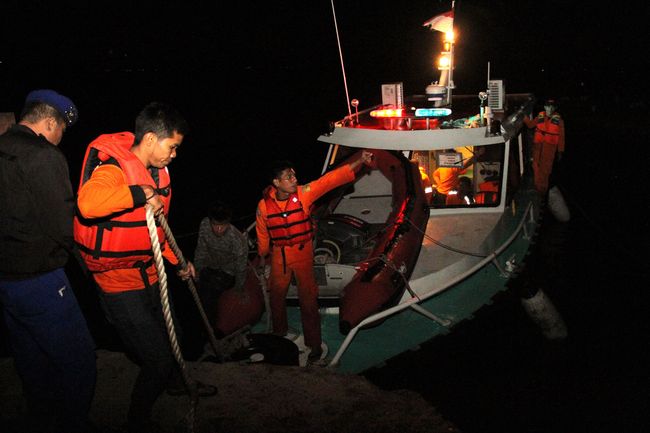 Jakarta, CNN Indonesia – A total of 21 Jeneponto residents, South Sulawesi province, passengers of the Divine Revelation 02 ship that sank in the waters of East Nusa Tenggara (NTT) arrived at the Mayangan Fisheries Port, Probolinggo City. They were immediately evacuated by officers to a temporary shelter at the office of Probolinggo Mayangan Beach Radio Station, Sunday (2/9) night.
The survivors and the Nagoya Sejahtera KM ship that saved them arrived at the port around 7:30 PM. They were then taken to a tent that was prepared for their health.
After being declared healthy, the survivors were then transferred to a shelter in the port of Tanjung Tembaga, Mayangan. There they get food and rest places.
Akbar Liwang, one of the victims said that the sinking incident of the divine revelation was fast. Even he himself did not know what was really happening and let the ship burn until it sank. He only knows when he is awake already in the water and a lot of shouting.
"I'm not sure, I slept on the ship when I fell asleep, so I do not know," he said.
In contrast to Akbar, Heri Syarifuddin (25) explained to the ship's crew (ABK) KM Wahyu Ilahi that his ship had sunk because a fire came out of the engine. According to him, the cause of the fire of the engine is unknown.
"What I know is that there is a fire in the engine, but why is it burning, I do not know," said Heri.
"Immediately without thinking, we saved as much as possible and luckily they all survived and they were successfully brought to the ship. [KM Sejahtera Nagoya]"he added.
KM Wahyu Ilahi sank on Thursday (8/30) around 8.30 pm from East Nusa Tenggara to Probolinggo.
The ship carried 21 people, consisting of 7 crew members and the captain, 17 passengers with 3 children and 100 cows, 50 horses and 100 goats. The loss of the incident was estimated at Rp. 4 billion.
AKBP City Probolinggo Police Chief Alfian Nurrizal, who welcomed the group of victims, immediately appreciated the step of the Nagoya Prosperous KM Skills and crew that saved the sinking victims.
According to him, what is done by the Nagoya KM Sejahtera crew is a heroic act that must be appreciated.
"This is a heroic action from them," he said.
Alfian said that his party also gave prizes to every person who saved the sinking victims of the Divine Revelation KM.
"These people are citizens who are exemplary, that's why we offer a charter for those who dare to save," said Alfian.
(fat / clear)
Source link