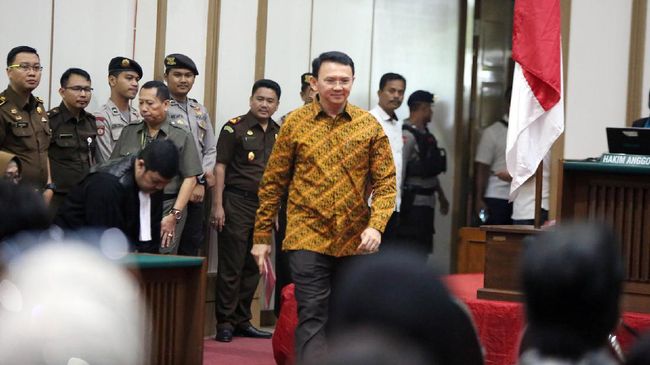 Jakarta, CNN Indonesia – Former Governor of DKI Jakarta Basuki Tjahaja Purnama or Ahok told about the courage of Abdurrahman Wahid alias Gus Dur who lost his position as leader in connection with his defense of humanity.
He wrote the story in a piece of paper to the second child of Gus Dur, Yenny Wahid on Monday (8/20), when the two met at the Brimob Mako.
Ahok asked Yenny Wahid to fight for humanity, tolerance and justice, three things that Abdurrahman wanted to continue to do.
"Do not be afraid to lose your office," said Ahok, referring to an incident that happened to Gus Dur first.
Gus Dur himself stepped down in 2001 after he was hit by a political case in the Bulog gate. He was later replaced by Megawati Soekarnoputri.
"If we are currently facing challenges, use the right perspective, these challenges are not to bring us down," wrote Ahok in the letter, which was quoted Wednesday (8/22).
The challenge, said Ahok, is not to overthrow Indonesia, but to challenge people not to be tired of fighting for the survival of the children of the nation.
"May God grant us peace and strength," said Ahok.
Yenny also uploaded the letter on Tuesday (8/21) on her personal Instagram account. The letter was given by Ahok for the visit of Yenny Wahid earlier this week.
Wahid Foundation researcher Alamsyah M. Djafar said that the encounter between the two caused an atmosphere of emotion.
"Just sitting in a green chair across from a round table wrapped in white cloth, Mrs. Yenny's tears broke," Alamsyah said in a Facebook account.
Yet he also told how Ahok talked and joked a lot during the meeting. (Asa)
Source link