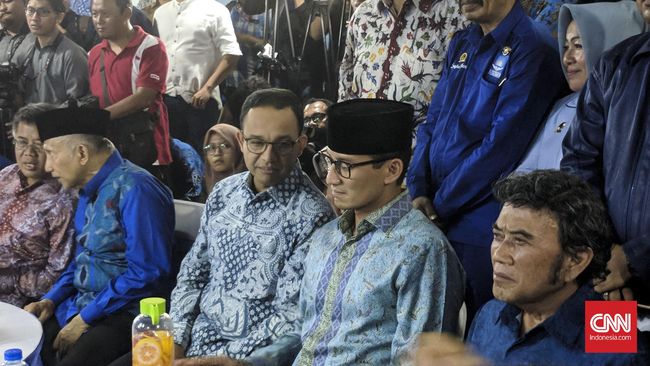 Jakarta, CNN Indonesia – Chairman of the Honorary Council of the National Mandate Party (PAN) Amien Rais from the beginning he was inclined to choose Anies Baswedan as a future vice president to guide Prabowo Subianto compete in the 2019 presidential election.
Even Amien said that his wish was supported by the son of his daughter, who handed the message directly to his wife.
"If I want to know the secrets of the kitchen, I have repeatedly pointed out to Mr. Anies, I was told that my children are millennial generation, generation Now times, "This gentleman is looking for his representative, Pak Prabowo, who has kicked his name Anies Baswedan", said Amien during a speech on the twentieth anniversary of PAN in the Senopati area, South Jakarta, Thursday (8/23).
Amien said that he had handed the case directly to Anies in the town hall, but Anies actually refused and had to complete his duties as governor of DKI Jakarta over the next five years.
"He has actually made a jihad to complete his assignment in DKI to Pak Prabowo if asked," Amien said.
Amien told Anies and Sandiaga who were now officially nominated by Prabowo to accompany him as the future vice president at the upcoming presidential election.
Not only that, Amien also told about his company that the famous clergyman from Riau Ustaz wanted to perform Abdul Somad (UAS) becomes Prabowo & # 39; s deputy in the presidential election. But again his attempts failed because he was again rejected by the person he fought for.
Even so, Amien claimed to be grateful and felt that the name of the password he had never fought for had been chosen by Prabowo because he said that if Prabowo was right alongside UAS there would be a verse war, hadith, and Al Quran that would be leveling and sinking of the nation led. Given that Jokowi Ma & # 39; ruf Amin had chosen as his representative.
"But when this password was chosen, it is clear that our God gracefully accepts," Amien said.
Zulkifli Hasan opens secret
In the same place, the chairman of the National Mandate Party (PAN) Zulkfili Hasan also admitted that his party continued to seduce Anies as a vice-presidential candidate.
"We are sorry that we have brought Anies to continue, so far," Zulhas said, followed by laughter from the audience at the milad event.
"Until the last second, still seductive, secretly," he continued.
According to Zulhas, the position of PAN and PKS would be just as happy as Anies would become vice president. Because if the ticket of the vice-president falls within the framework of one of the two parties, both PAN and PKS will not be happy.
Anies who had the opportunity to give a speech afterwards could not resist laughing at the chatter of Zulhas.
"All the secrets of the kitchen are open," Anies said laughing.
Anies did not mention much about PAN's approach to him as vice president. He only said that he was grateful that Sandiaga would continue with Prabowo in the 2019 presidential election.
"So when the mandate was difficult, Alhamdulillah said fortunately, Sandiaga Uno expressed his willingness and progress with Pak Prabowo," Anies emphasized.
Anies became one of the important political figures that was present at the commemoration of the 20th PAN anniversary. In addition to Anies, there were also candidates for vice president Sandiaga Uno, chairman of PAN's Board of Trustees Amien Rais, PKS President Sohibul Iman, Secretary General of Gerindra Ahmad Muzani, Rhoma Irama, and team leader Djoko Santoso.
Several other veteran political figures also attended the event, such as secretary of the Berkarya party Priyo Budi Santoso, Maher Algadri, Fuad Bawazier, and deputy general chairman of the democrat Syarief Hasan.
Source link