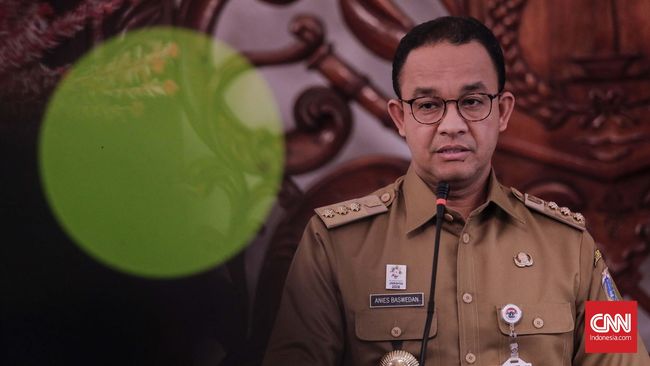 Jakarta, CNN Indonesia – Head of planning and development Financing of DKI Jakarta Regional Development Agency (Bappeda) Agus Sanyoto said that the Governor & # 39; s Regulation (Pergub), which regulates the fee for RW (RW) facilitators, is signed.
Agus said that at least five companions would be deployed in each village to assist residents of Jakarta in proposing development programs & # 39; s.
"The plan must be implemented in 267 villages. For incentives, feel sorry for the RW deliberations, then the mobility is high. So we give transportation, the mechanism is still prepared. But at IDR 150,000 per person per meeting", said Agus when he met in the Balai Jakarta City, Tuesday (28/8).
The gubernatorial number is numbered 81 of 2018 concerning the special costs unit for consultations with the Community pillar and development planning consultations (Musrenbang) in the framework for the preparation of work plans for local authorities. The gubernatorial arrangement was stipulated by Anies in Jakarta on 10 August 2018 and subsequently announced on 15 August 2018.
Agus claimed that the companion would later supervise the APBD planning process from the RW consultation, kelurahan musrenbang, subdistrict musrenbang, city musrenbang, to the provincial level.
He said that this policy involves the community in this mentoring process. Because the companion appointed and trained by the provincial government came from the place where he worked.
If calculated, there will be a total of 1,335 companions for 267 villages. Each companion works at least in five meetings that have been described previously. Of that number, each companion receives at least a minimum of IDR 750 thousand. In other words, a total of Rp1 billion for the associated honor of the meeting is estimated.
Agus explained that this policy had been tested in 17 villages when formulating the APBD of 2019.
He said 85 assistants had been deployed in Cikini Village, Gunung Sahari, Tugu Utara, Penjaringan, Kelapa Dua, Kembangan Utara, Guntur, Bintaro, Kalibata, Pondok Kelapa, Kramat Jati, Tidung Island, Pari Island, Untung from late 2017 to early 2018. Jawa, Panggang, Kelapa and Harapan Island.
Subsequently, the provincial government of DKI Jakarta will extend the policy to all regions in Jakarta in the 2020 APBD talks that begin at the end of this year.
"After this was done in 17 villages, the admission increased and in 2017 only 45.76 percent of the proposals were honored, after a companion could be 70.93 percent," he said.
Agus said his party can not confirm the detailed budget with respect to the corresponding fee. Similarly, the process of paying the money.
"Not yet, the detailed mechanism is still being discussed, the budget is just being discussed," he continued.
(Kid)
Source link