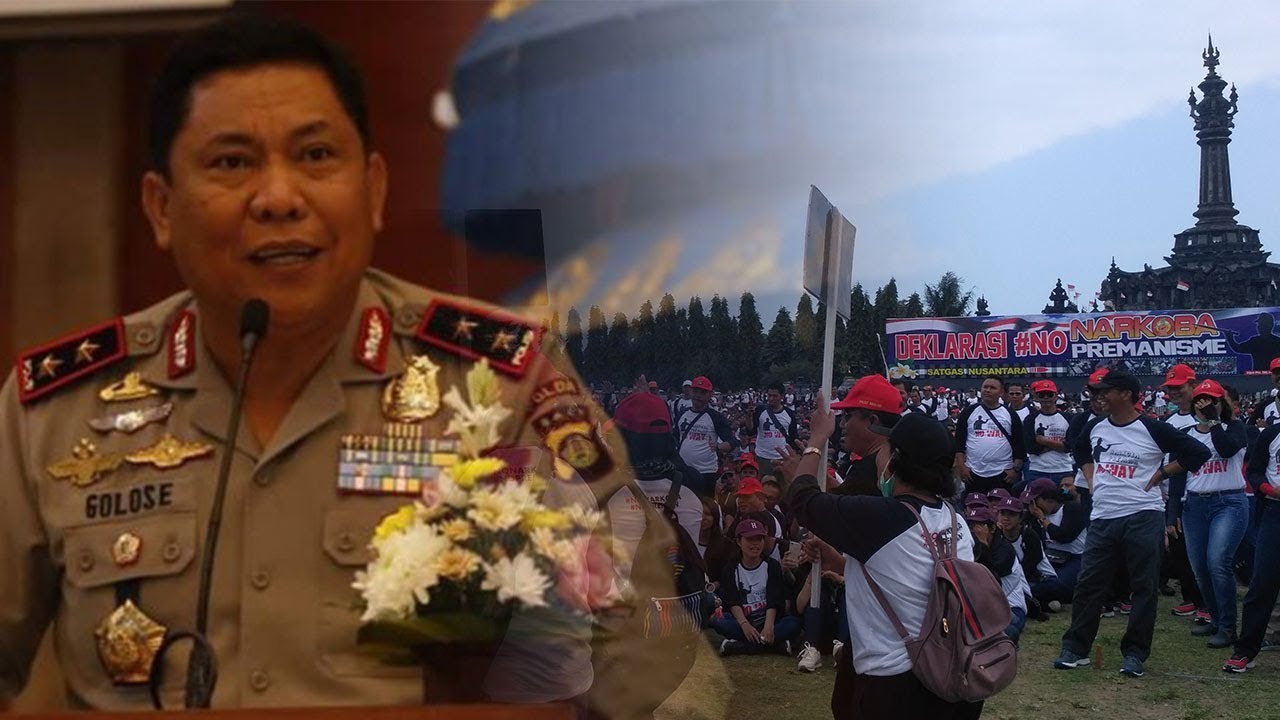 TRIBUN-VIDEO.COM – "Thuggery must be eradicated, and should not be in any form in Bali!" stated Bali Police Chief Inspector General Pol. Dr. Petrus Reinhard Golose was on fire at the No Drug and No Thuggery Declaration at Puputan Margarana Field, Renon, Denpasar, Saturday (1/9/2018).
For about 11,000 participants, General Golose emphasized that perpetrators of crimes are cowards.
In his speech. Golose said that he would not tolerate all actions that lead to violence, including criminals under the guise of civil society organizations.
He assured the entire community that acts of violence were only cowards, which had to be exterminated.
"Send my greetings to the cowards, including rogues who are under the guise of social organizations." Greetings from the police chief, "he said in a high tone as he encouraged the community.
Golose told thousands of Balinese that he and his ranks only knew what the people of Bali were expecting.
"I actually agree with the expectations of the Balinese people that, before I worked as Regional Police Chief, for more than a year so far, the most important thing I wanted from Balinese people was to eliminate drugs and violence "he explained.
Read: Viral video of the wedding party Abused In the old days until the groom faints, here is the fact
The two-star general on the shoulders also asked the public and the officials not to worry if he was no longer the Bali Police Chief.
"Many people wonder if the head of the police is moving? Today the answer is that the Balinese are against all forms of violence." I agree or not, "asked Golose and was answered by the participants.
"The coward who does not raise his hand, the brothers are calm, the regional police commander is behind you and that is the most important thing," said the former deputy of international cooperation at the Office for Counter-Terrorism (BNPP).
Petrus Golose served as Bali Police Chief since January 4, 2017.
Admittedly, since the arrival of the general from Manado. North Sulawesi, the act of violence has dropped dramatically.
Conflicts between members of mass organizations began to decline.
See the video above. (*)
ALSO LOOK AT:
Source link