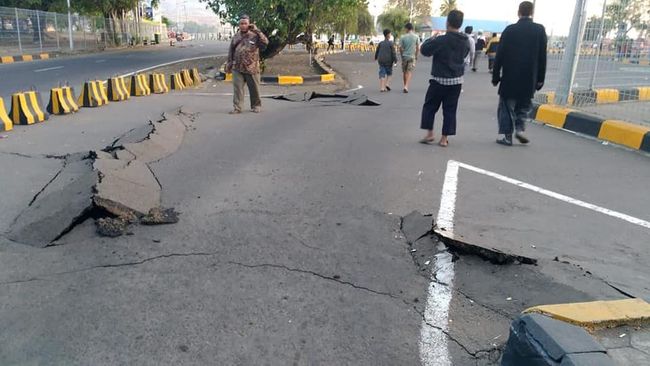 Jakarta, CNN Indonesia – Head of the Information Data Center and Public Relations of the National Disaster Management Agency (BNPB) Sutopo Purwo Nugroho confirms the instructions of the president (inpres) with regard to the treatment Lombok disaster, West Nusa Tenggara, will be published this week. He believes that he will announce the presidential decree in the near future.
"The president stated that it did not last long, maybe this week, I do not know what the president's name is, but if his name was called the acceleration of handling after the Pidie Jaya earthquake disaster," said Sutopo, press conference in Graha BNPB in Jakarta, Tuesday (21/8).
According to Sutopo, the instruction will accelerate the process of rehabilitation and reconstruction of Lombok, which was hit several times in less than a month by the earthquake.
"With the Presidential Instruction, from a legal point of view, the Ministry of Institution is responsible for fully assisting with treatment and funding, which is what happened in the Inpres that dealt with the Pidie Jaya disaster," he said.
He continued that in two years time the rehabilitation and reconstruction had to be completed. Ministries / agencies play a role in implementing each of them in the action plan for rehabilitation and reconstruction.
He wrote that the Ministry of Education provided schools with supplies, while the Department of Health provided hospitals.
Sutopo also explained that the reconstruction of houses after the earthquake started today.
The Indonesian Vice President Jusuf Kalla attended a visit to the shelter in Kekait Village, Gunung Sari Subdistrict, West Lombok, NTB on Tuesday (21/8) to officially begin construction.
Sutopo explained that the construction of damaged houses was entirely the responsibility of the receiving residents. They will, however, be supervised by facilitators from the Ministry of PUPR.
The government provides financial support to buy building materials. Residents whose homes were slightly damaged would receive Rp10 million, a modest damage of Rp25 million, while severely damaged people would receive Rp50 million.
The houses that were built were anti-earthquake houses that used RISHA technology (Simple Simple Healthy Home). Technology is said to be able to protect the content even if earthquakes hit 9 earthquakes.
Sutopo also explained that JK hoped that the construction of a house would take time to complete with a target of 1 month, while the construction target of all houses was damaged within 6 months.
Meanwhile, BNPB noted that damaged damaged houses reached 10 thousands of heavily damaged houses. Head of the National Disaster Management Agency (BNPB) Willem Rampangilei said that he had distributed home funding to 5,000 families. They will receive the money for a long time by bank transfer.
So far, the Lombok NTB 2018 Disaster Emergency Handling Command has recorded totally damaged homes reaching 73,843 units. (Agi)
Source link