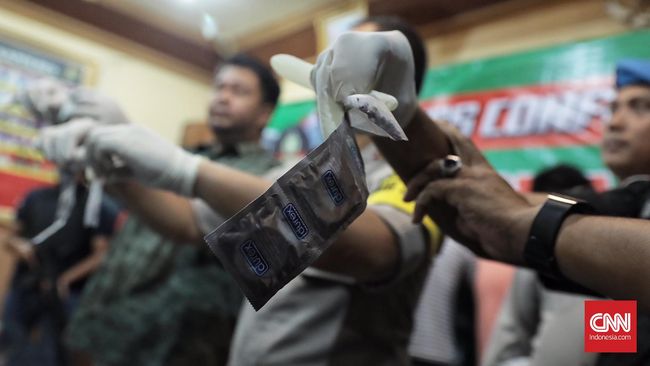 The pursuit of suppliers took place after the police found a number of narcotics at the party that took place early in the morning on Sunday (30/9).
"There is already a name but this is still being pursued, it is clear that we have to search for the source of the goods," said deputy director-deputy police chief in Jakarta (AKBP) Arie Ardian against CNNIndonesia.com, Monday (1/10).
Central Jakarta Police Resort secures around 23 people in a raid in the Great Sunter Area. Of the dozens of people, the police have four people as suspects they are DS, EK, DL and TM.
Arie explained, initially the police received information about the DS house that was often visited by men suspected of being gay. The police eventually invaded and found evidence of dozens of ecstasies at Griya Manis Block A, Sunter Agung, North Jakarta.
"Six ecstasy items with emperor logos belong to DS, 19 items belong to EK, eight items belong to DL, while half of items belong to TM", says Arie.
A group of men is suspected of having sex, because when they were raided, they only used underwear. Arie stated, however, that there was no question of prostitution in the case.
"We offer rehabilitation, not (prostitution)." This is the case of narcotics, "he said.
From the study, EK admitted that ecstasy drugs were obtained from 25 items from DS on Saturday (29/9) to be distributed during a male bachelor party (bachelor party). DS asks for help with the distribution of ecstasy tablets.
"So the DS is currently being followed (where do you get ecstasy)," said Arie.
Now the four suspects are in the police headquarters in Central Jakarta and have been charged with Article 112, paragraph 1 of Act No. 35 of 2009 on narcotics with the threat of a minimum sentence of six years in prison and a maximum of 20 years .
Source link