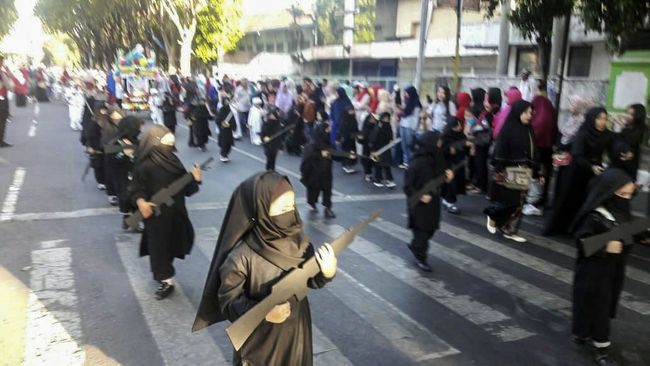 Jakarta, CNN Indonesia – Hartatik was discharged from his position as director (Kasek) TK Kartika V-69 in the city of Probolinggo because he was considered negligent after the deployment of kindergarten class students in veil suits and the wearing of replica weapons in a cultural parade.
This was determined on the basis of a task numbered number 820/2235 / 425.103 / 2018 of the 21st of August, signed by the head of the Probolinggo City Bureau for Youth and Sport Education, Moch Maskur.
"The sanction given to Hartatik by Probolinggo City's education office was in the form of dismissal from his office as Kasek TK Kartika V-69 in Probolinggo city and was temporarily transferred as staff in Probolinggo's education office," said Head of East Java Police Public Relations Kombes Pol French Barung Mangera. Probolinggo City Education Office, Wednesday (8/22).
With regard to Hartatik's next position, the letter only said that he was "assigned to the same rank at the Probolinggo City Education, Youth and Sports Office".
Barung said that his party along with the education office claimed that he had asked Hartatik about the incident.
[Gambas:Twitter]
"The results with information are in accordance with what has been conveyed, and there is essentially no intentional factor," he said.
With regard to the replacement of Hartatik as chairman of the school principal, his party still coordinates the Kartika V-69 TK Foundation.
Earlier, the city of Probolinggo, East Java, was neutralized by a student's corso for pre-school children. Because the march that was the momentum of independence was damaged by symbolizing violence with a replica of a firearm.
Cultural parade held on Saturday (8/18) morning on Jl. Panglima Sudirman (for the city government) – Jl. Suroyo – The square was followed by 158 playgroup (KB) and kindergarten (TK) children. A kindergarten presents children dressed in black veils and replicas using long-loop weapons.
Suddenly this was viral on social media, protests were also made on some FB accounts. Warganet (netizens) has responded. Even youth organizations also participated in protests such as GMNI, IPNU, GP Ansor and Gusdurian Probolinggo.
According to Braung, Hartatik said that he did not intend to support these activities or to focus on certain radical groups or groups.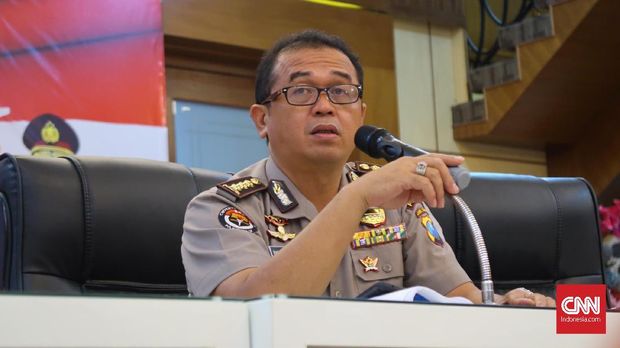 Head of the East India Republic Public Relations Department Frans Barung, Monday (5/14). (
CNNIndonesia / Abi Sarwanto)
The use of the attributes of the participants of the hijrah or black veil parade accompanied by firearms toys is an idea or a theme of TK Kartika V-69 Probolinggo itself.
"The purpose of them reflects the struggle of Rosululloh and it is not the intention to refer to the symbols of radicalism, only to give confidence in his students," he said.
(thick / arh)
Source link