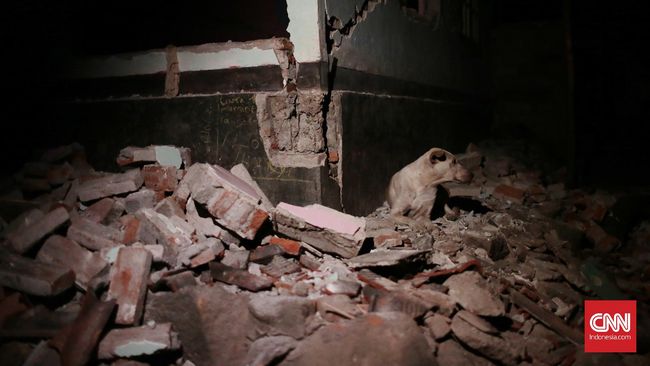 Jakarta, CNN Indonesia – The government will finance the first phase of Rp10 million to every homeowner who is damaged earthquake in Lombok, West Nusa Tenggara (NTB).
The coordinating minister for human development and culture, Puan Maharani, revealed that the total amount paid by the government for one damaged house amounted to Rp50 million.
"The 50 million fund will be divided into five phases, Rp10 million for seed capital, the next phase Rp10 million to build as the founding of his house," Puan said Friday (8/31).
In this case, the government has identified 78,000 houses that were slightly damaged in serious houses after the earthquake. Of the total, about 20 thousand houses were identified as badly damaged.
However, the government will still verify on the basis of name and address (by name at address) so that no error can be made in providing financial assistance.
"The verification is the regional government (local government) and the Ministry of Public Works and Housing (PUPR)," Puan explained.
Of the 78 thousand houses that were damaged, Puan said that only 20 thousand homes were verified based on their name at address. For example, support of Rp50 million will certainly be given to the owners of 20 thousand houses.
"We still calculate the budget, included in the state budget (APBN)," Puan explained.
According to him, the allocation of funds will be included in the government budget 2018 and 2019. However, he can not determine what percentage of funds will be included in the government budget 2018 and 2019.
Meanwhile, the Ministry of Public Works and Housing (PUPR) has submitted a budget of Rp.529.6 billion to the National Disaster Management Agency (BNPB).
PUPR minister Basuki Hadimuljono said the money would be used in early August to repair public facilities and repair houses that had been damaged by the earthquake.
"If we propose up to December 2018 Rp.529.6 billion, we will calculate everything in the future until 2019," said Basuki.
Although it is still in the registration phase and has not yet been paid, Basuki ensures that all repairs to public facilities and damaged houses can still be carried out. Because, if the repairs are indeed an emergency, they will use the budget of the Ministry of PUPR.
"The money that has been paid out is Rp.176 billion, which according to the Minister of Finance in all ministries amounts to a total of R1.9 trillion," said Basuki.
So far, Basuki said that the PUPR ministry built 34 schools, four prayer houses, eight hospitals and two markets.
In this case, the government has a deadline to realize public facilities in December 2019. However, the houses of special occupants must be completed within the next six months.
"So it is done in mutual cooperation, we are appointed to guide and manage the construction of housing," explained Basuki. (Lav)
Source link