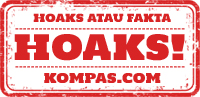 hoaks!
Based on Kompas.com authentication so far, this information is incorrect.
KOMPAS.com – Information showing that employees working between 1990 and 2018 have the right to Rp. 21 million from the Social Security Administering Agency (BPJS), has been confirmed as fraud or not.
This message circulates in different discussion groups whatsappand supervised link who asks the recipient of the message to click on the link.
The head of BPJS Public Relations M. Iqbal Anas Ma & # 39; ruf confirmed that this information was incorrect.
Information circulates
Chain messages that circulate read:
"Those working between 1990 and 2018 have the right to withdraw Rp 21 million from the Social Security Administering Agency (BPJS).
Find out if your name appears on the list of people who have the right to withdraw this fund: https://mobv.info/-bpjs "
When the link is clicked, it goes to the page with inscription that is almost the same as the official BPJS page.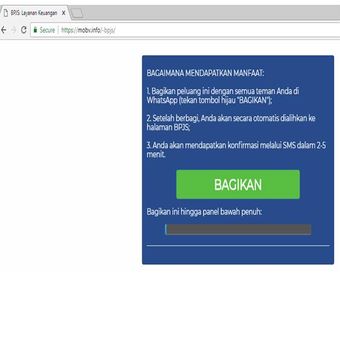 Links in message hoops when clicked are displayed in this way.
Then the user is asked to fill in the information about age, occupation and work status.
At the end of the survey, there will be guidelines such as:
1. Share this opportunity with all your friends on WhatsApp (press the green button "SHARE");
2. After being distributed, you will automatically be transferred to the BPJS page;
3. You will receive a confirmation via SMS within 2-5 minutes.
Divide this until the panel is too full.
Confirmation of Kompas.com:
When confirmed Kompas.com, Tuesday (28-08-2018), Head Public Relations of BPJS Health M. Iqbal Anas Ma & ruf stated that the information was hoax.
This is also clarified via the official Twitter account of BPJS RI, @BPJSKesehatanRI,
In connection with the dissemination of information about fraud in the name of BPJS Kesehatan, we hereby transfer the following items pic.twitter.com/7OsC2dVU1V

– BPJS Kesehatan RI (@BPJSKesehatanRI) August 28, 2018
In response to this incorrect information, BPJS cooperated with the Ministry of Communications and Information (Kominfo).
"We have reported that the site should be followed up to Kominfo," says Iqbal.
The BPJS urges the public not to distribute this hoax information and to be more careful with the fraudulent mode carried out by irresponsible persons.
If the community finds a similar incident, it can report it to the authorities that need to be followed up.
Source link