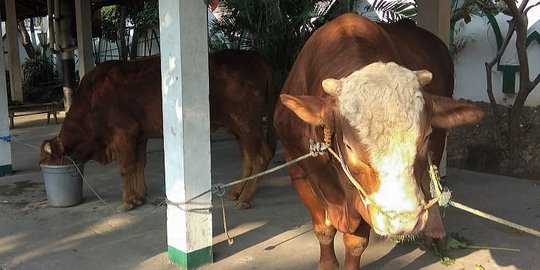 Merdeka.com – Ahead of Eid al-Adha 1439 Hijriah sent president Joko Widodo (Jokowi) two cows to Solo. The two brown limousine cows were divided over two mosques in the city of Bengawan. Namely at the Great Mosque of Surakarta, the Kasunanan Palace and the Al Wustho Mosque, Mangkunegaran.
From the information collected it appeared that the two large cows were bought by a presidential family member of a farmer named Kuncoro Budi Santoso (43), a resident of Polokarto, Sukoharjo. The farmer has become a subscription to Jokowi during the holiday of Eid al-Adha.
Jokowi's sacrificial cows arrived at Al Wustho Mangkunegaran Mosque, Solo around 16.00 WIB. Brown cows with white heads of this type weigh 950 kilograms. While another cow was sent to the Great Mosque of Surakarta Palace, weighing 1.1 tons.
"Pak Jokowi has already ordered cattle from my farm three times," Kuncoro said after sending cattle to the Al Wustho mosque on Tuesday (8/21).
Kuncoro claimed, the cows he breeds are the seeds of choice. So Jokowi always chooses. According to him, there was a messenger from the president some time ago and contacted him.
"I was asked to prepare the cows to be sent to the Mosque of the Grand Mosque and Al Wustho, I immediately chose them and sent them to the delegation of the Minister of State Secretary Pratikno. [cob]
Source link