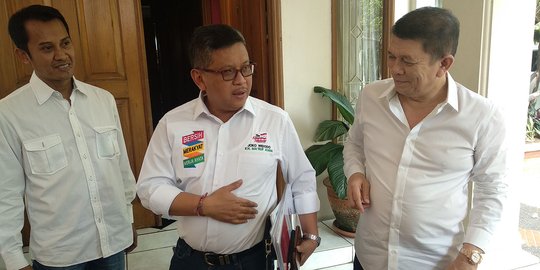 Merdeka.com – The winning team of Jokowi-Ma & # 39; ruin Amin gathered in the Cemara post. A discussed agenda is the evaluation of work and programs during the past week.
Except for Surya Hendrawan, the deputy secretary of the winning team, he said the team would also plan a program in the coming week. The team also focused more on discussing what the directors had done with their respective directorates, especially with regard to the appointment of coordinators.
"Yes, not every director has a director, what has been done this week." It is certain that the consolidation of each directorate is mandatory, and then the appointment of the coordinator, because under the director and deputy director there will be a coordinator, "he said at the site Tuesday (28/8).
He has not dismissed that the presence of the treasurer of the winning team will also discuss the issue of the funds. One is about campaign funds.
"Of course, we have technical guidelines, how do we follow the rules of the KPU that were socialized yesterday," said PKPI Secretary General
Meanwhile, today's attendance was the secretary of the winning team, Hasto Kristiyanto, then vice-chairman of the winning team, Herry Lontung Siregar, and deputy secretary of the winning team, Ahmad Rofiq. "So there are those who are still members of the House of Representatives, today the plenary meeting, some are rather late," he explained.
Regarding the position of Agus Gumiwang Kartasasmita, Verry recognized, there was still no change in the winning team. For information, Agus, who had just been appointed Minister of Social Affairs, was the treasurer of the Jokowi-Ma & # 39; ruf Winning Team.
"Not yet available today he was actually invited, but if it is not wrong, he is still in Lombok," he concluded.
Reporter: Putu Merta Surya
Source: Liputan6.com [fik]
Source link