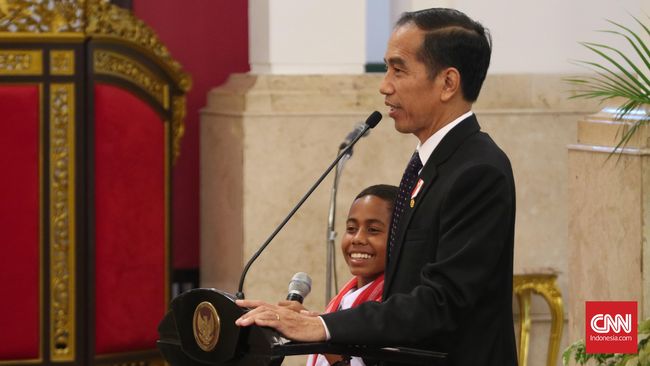 Jakarta, CNN Indonesia – President Joko Widodo gave a number of prizes to Yohanes Ande Kala, or Joni, a climbing boy during the 73-year jubilee of the Republic of Indonesia in Silawan Village, Belu, East Nusa Tenggara, when he was in met the State Palace.
"Already in Jakarta the minister, the secretary of state secretary, is trying to take a look, see the fantasy world with Taman Mini, which is not a difficult world for children", said Jokowi Monday (8/20) against Pratikno.
The prize was delivered directly to Joni as a form of appreciation for climbing the flagpole, so that the red and white kept flying.
During the meeting Jokowi also seemed to want to listen to the story of Joni until he finally climbed the flagpole and wore a rope so the flag could fly.
For Jokowi, Vice President Jusuf Kalla, along with other officials, said that at that moment he had abdominal pain and was in the School Health Unit (UKS).
Until finally he heard the question from the deputy regent about the person who was able to climb the flagpole because the wire was broken and red and white could not be hoisted.
Without thinking, Joni immediately ran to the flagpole and even climbed without asking for permission from the regent.
"Jon, you know what you're doing is climbing the pole, there's a danger Danger, honestly, when you see it, you worry and worry, how come you're not afraid to Climb a small pole, "said Jokowi.
Joni told Jokowi that he was sure he would be able to climb the small pile, because he climbed the nut there at least once a month.
After listening to the story, Jokowi did not hesitate what Joni wanted from him.
& # 39; Bike, & # 39; Joni replied with a smile.
"You are completely from Belu to Jakarta, you just ask for a bicycle, what is that?" said the president.
"Just ask for a house," said this 7th grader.
"Okay, I said yes, learn well, work hard so that I can achieve my goals," the president told Joni.
Joni said that he strives to become a soldier when he grows up. The president said that this could be transferred directly to TNI commander Marshal Hadi Tjahjanto, who attended the event.
(Ugo)
Source link