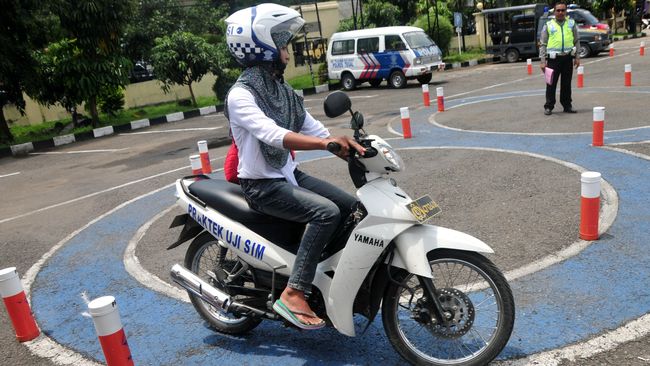 Jakarta, CNN Indonesia – Police department of professionals and security controls (Div Propam) inspects Kediri District Police Chief, East Java Adj. Sr. Comr. Erick Hermawan for involvement in cases of alleged illegal charges at the administrative unit of driving licenses (Guardian) Kediri police station.
Head of the Propr division of the National Police, Brigadier General Listyo Sigit Prabowo, confirmed that his party studied Erick about alleged professional violations and an ethical code. According to him, Propam Div would evaluate Erick's position as the Kediri police commissioner and establish sanctions in accordance with professional violations or the ethical code that was implemented.
"It has been proven that the head of the police has been prosecuted by professional and ethical violations. We will continue the process of further violations of the appeal, we propose his position to be evaluated and our actions will be processed because they are the profession and violate the code of ethics with sanctions ranging from relegation to dismissal with disrespect "Listyo said then confirmed on Tuesday (8/21).
The one-star general also confirmed that his party was investigating a number of Erick men about alleged extortion at the Kediri police station.
Based on collected information
CNNIndonesia.com
, the disclosure of this case stems from an arrest operation (OTT) performed by the Clean Sweep (Saber) Pungli Polri team at the Kediri Police Station on Saturday (18/8).
At that time, the Indonesian team of Police Saber Pungli discovered that every SIM applicant was charged against the non-tax-related state income (PNBP), which was issued around Rp. 500 thousand amounted to Rp. 600 thousand per person. The extortion was carried out by members of the Kediri Police Task Force through intermediary brokers with the initials H, A, B, D and Y who were coordinated.
The brokers deposited daily extortion money to an official (PNS) with the initials AN, which was subsequently reported to the Bripka Ika SIM (Baur) Affairs Agency. After each recapitulation, the money is distributed under Erick, the head of the Kediri Police Precinct Traffic Unit Deputy Commissioner Fatikh, the head of the registration unit and the police unit of Kediri Inspector Satu Bagus, as well as the Cash and SIM license .
Every member of the Kendiri Police Task Force receives approximately Rp 300,000 of illegal payments every day from AN, while Erick receives around Rp 40 million to Rp 50 million per week.
Fatikh then received approximately IDR 10 million to IDR 20 million, and Bagus and Ika around IDR 2 million to IDR 3 million, and Ika.
In addition to the names mentioned that receive routine payments from AN, a number of names would also have been netted in OTT by the Saber Pungli Polri team, namely Aiptu Yoyok, Aipda Kuswanto, Brigadier Didik Feri, Bripka Agustinus Soni, Bripda Halla Cintiya, Bripda Ana Handayani, Bripda Zahrina, Brigadier General Andi Fahrudin, Brigadier General Pujianto, Bripka Zainul Aula, Bripka Catur Edi and a number of civil servants. (Gil)
Source link