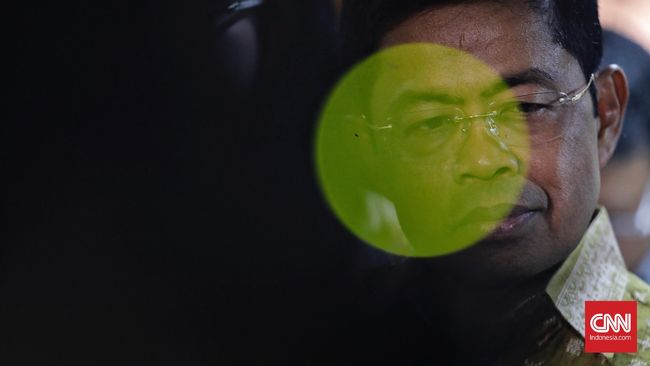 Jakarta, CNN Indonesia – The Corruption Eradication Commission (KPK) determines the former Minister of Social Affairs Idrus Marham as a bribery suspect in the construction project Riau-1 Steam Power Plant (PLTU). Idrus would have enjoyed the money received by the former Chamber of Deputies. VII Vice-President Eni Maulani Saragih.
Eni Saragih reportedly received in stages a kickback of Rp.4.8 billion from the shareholders of Blackgold Natural Resources Limited Johannes B Kotjo.
"In the research process, a number of new facts were found, so that a new investigation was carried out on August 21, 2018 with one suspect, namely IM, Friday (24/8).
The name of Idrus was reportedly involved since the beginning of the alleged bribery case of the Riau-I PLTU project. The former Secretary General of the Golkar Party was allegedly involved in every meeting organized by Eni Saragih, Kotjo and PT PLN Director-President Sofyan Basir.
Idrus himself has been questioned three times by KPK researchers. Idrus was first examined on July 19. He was asked to serve as Golkar Secretary General under the leadership of Setya Novanto. Idrus also admitted that he knew Eni and Kotjo for a long time.
In addition, a second investigation by Idrus was carried out on 26 July. After being examined, he denied that Eni & # 39; s arrival at his official residence on July 13 was aimed at delivering Rp500 million in cash. The money would come from Kotjo through his staff, the Maharaya throne.
Kotjo would have given bribe to Eni since the end of 2017 for a constant basis of IDR 4.8 billion. Details are IDR2 billion in December 2017, IDR2 billion in March 2018, IDR 300 million in June 2018 and the last IDR 500 million on July 13, 2018, when Eni and Kotjo took hands.
Finally, the third study of Idrus was carried out on August 15. But after undergoing an investigation, Idrus was reluctant to explain the exam material. He claimed to have explained everything to KPK researchers.
In this case, the anti-food office only arrested two suspects, Eni and Kotjo. Eni is suspected of being the recipient of bribes, while Kotjo is suspected of being a bribe. The amount of Rp 4.8 billion received by Eni was related to the cooperation agreement for the construction of the PLTU Riau-I.
The RIAu-I PLTU project is a direct appointment project that was submitted two years ago to a PLN subsidiary, PT Pembangkitan Jawa-Bali. This project is included in the Business Planning Electricity Supply 2017 (RUPTL). (Clear)
Source link