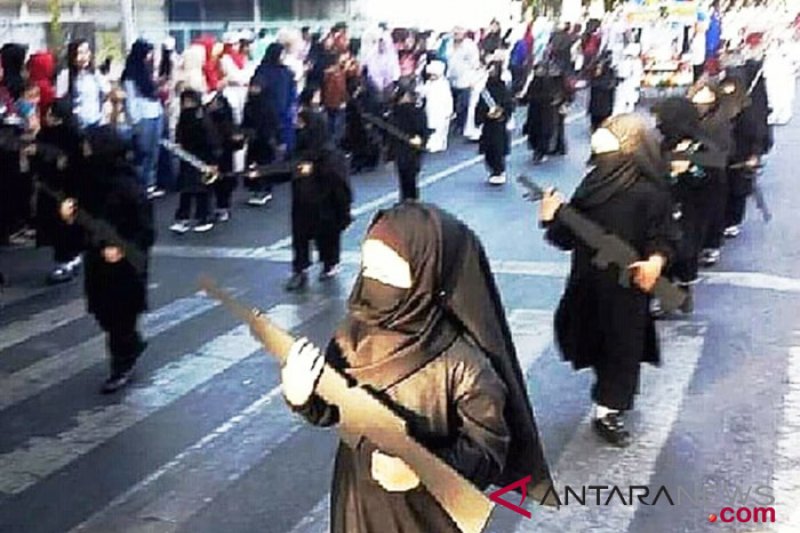 Probolinggo, East Java (ANTARA News) – Minister of Education and Culture Muhadjir Effendy came to Probolinggo on Sunday afternoon to explore the purpose and objectives of the Kartika V kindergarten cultural parade, which was controversial because of black and veiled children carry a replica of the weapon.
"After I went straight down and checked the field, there was nothing special about the carnival of the children in kindergarten," he said about the children's procession whose video on social media was viral.
said the video circulating on social media only targeted troops of veiled children carrying replicas of weapons.
"In full view, carnival are like ordinary carnivals," he said.
He explained that the cultural parade held by the kindergarten raised the theme of the struggle of Muslims in the independence of Indonesia.
Based on a statement from the school management, the property used by children in the carnival was a pro-long time and the school was not going to lead children to dangerous radicalism.
"It was just a coincidence and the influence did not occur like this," he said.
The matter, he explained, could be a lesson for all schools and teachers to be careful in educating students and using property in school activities, including marches.
First, "he said
He also called on all educational circles to be aware of the spread of radicalism in schools.
The police station of Probolinggo City had previously invited related parties to press releases. to serve in relation to the TK parade.
Cultural parade with the theme Unity in diversity at the level of kindergarten throughout the city Probolinggo, organized by the Ministry of Education Probolinggo city fish to commemorate the 73rd anniversary of the Republic Indonesia was held on Saturday (18/8) in the city of Probolinggo.The participants were 158.
Head of TK Kartika V Probolinggo Hartatik said that the school bears the carnival theme "Together with the struggle of the Messenger of Allah to raise faith and Taqwa to Allah. "According to him, it is done to save costs because it can use the property of the school.
" We have not a single intention, let alone that we instill a spirit of violence. Everything is only the intention of the parade by using existing properties, so that it is more efficient. "I apologize to the public, we promise not to repeat the same," he said.
Pewarta: Zumrotun Solichah
Editor: Maryati
COPYRIGHT © BETWEEN 2018
Source link