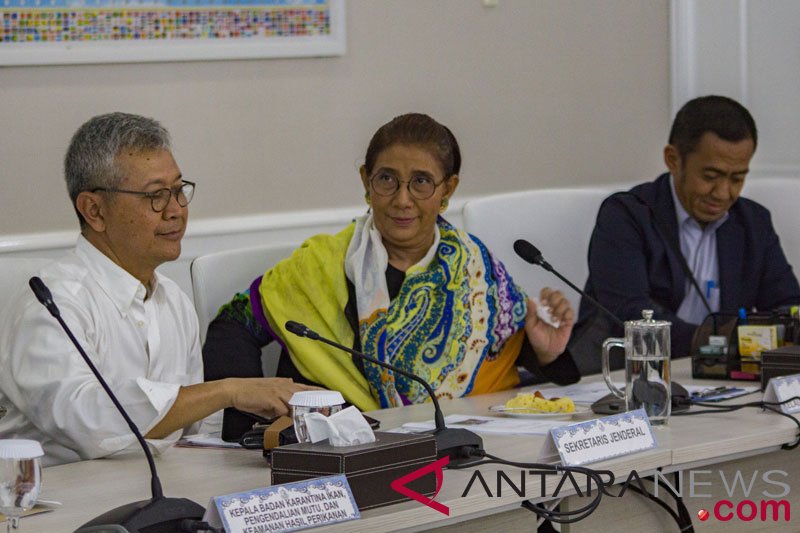 Jakarta, (ANTARA News) – Minister of Maritime Affairs and Fisheries Susi Pudjiastuti said that the sinking of illegal fishing vessels was a form of sovereignty enforcement in the territorial waters of the Republic of Indonesia.
"We also want these sovereign values ​​to color our independence day," Minister Susi said in a written statement he received in Jakarta on Wednesday.
As is known, the government, through the Ministry of Maritime Affairs and Fisheries (KKP) together with Task Force, has fired 115 125 ships that simultaneously carry out illegal fishing at 11 locations in Indonesia.
Sinking in the context of the independence day was directly led by the Minister of Maritime Affairs and Fisheries as the Task Force commander to eradicate illegal fishing (Task Force 115) in Bitung, North Sulawesi, Monday (8/20) .
"This is a contribution from different institutions, especially Task Force 115, PSDKP KKP, Bakamla, Indonesian Navy, National Police and the Attorney General's Office, that law enforcement and protection of marine resources are very important to us", said Minister Susi.
Minister Susi further explained that this sinking was deliberately carried out to coincide with the moment of the independence day of Indonesia as a manifestation of the attempt to give the message of Indonesia's independence to recover the sovereignty of the Indonesian fish stocks.
The Minister of Maritime Affairs and Fisheries also stressed the importance of cooperation and consolidation between agencies in combating illegal fishing actors, in particular Task Force elements, namely the KPP, the Marine Security Agency (Bakamla), the Indonesian Navy, the Indonesian police and the attorney general's office.
Previously, Susi argued that the sinking of hundreds of thieves must have a deterrent effect, so that the national waters are free from illegal fishing activities.
He hopes that with the large number of fish thieves being blown up, illegal fishermen will no longer dare to enter Indonesia.
The CTF continues to improve coordination with several related institutions because it is aware that it is impossible to eradicate criminal acts of fish theft in the archipelago alone.
Interagency cooperation, which has been very good so far, is considered to be the key to the success of the Indonesian government in the management of fish stocks and the fight against IUU fishing.
One of the things that the KKP related to this was holding a meeting at the Fisheries Crime Management Coordination Forum (TPP) of 2018 at the end of June.
Earlier, the Indonesian Association of Marine Scholars (Iskindo) had expressed the hope that the government could continue and improve the eradication of fish theft in national waters.
"Iskindo proposes to the President to remain consistent in the elimination and prevention of illegal fishing practices, which are unregulated and undeclared, and destructive fisheries for sustainable fishing," said Moh Abdi Suhufan, Chief Executive of Iskindo.
Also read: Lagos Viking Ship will be sunk in Pangandaran
announcers: M Razi Rahman
Editor: Budi Suyanto
COPYRIGHT © BETWEEN 2018
Source link