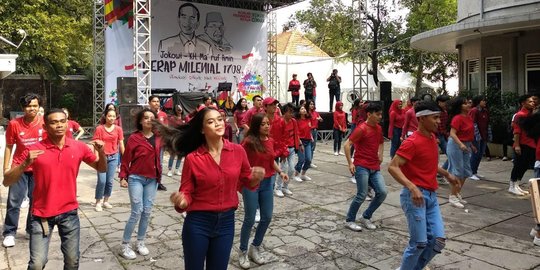 Merdeka.com – The deputy secretary of the Jokowi-Ma & # 39; ruf winning team, Ahmad Rofiq, said that the name of the former TNI commander Gatot Nurmantyo has never been discussed as one of the candidates for the winning team.
"Mr. Gatot, so far I have not seen whether he will be part of the campaign team or not. In the coalition discussions there were never discussions," said Rofiq on the sidelines of the Derap Millenial 1708 event at the Perindo DPP office. Jakarta, Sunday (8/26/2018).
He fired that the team leader must be from the army to anticipate the camp Prabowo-Sandiaga, which will be led by Djoko Santoso. "So it is not good as the chairman of the army and next to the army, this is not in a state of war," said Rofiq.
It could be, Rofiq continued, the president who was appointed from the youth and had achievements.
"So now Pak Jokowi focuses on looking for profiles of young people who are assumed to have achievements, which are considered millennial. Therefore, this millennial is quite large, the trust must be given, with the strength of the team that Mr. Jokowi, like what Pak Jokowi puts forward, naturally, "We will work more for the millennium," he said.
Rofiq did not dismiss the names of Najwa Shihab and Erick Tohir. However, everything is still being sent back to Jokowi. "One of them, the two names that were tried to discuss, but it was only in the coalition circles, the coalition had already fully submitted it to Pak Jokowi," said Rofiq.
He reminded, however, that the announcement was over Asian games 2018 is complete. "As promised by Mr. Jokowi, the announcement after the Asian Games and of course as a seated party, Pak Jokowi must give a larger scale priority to the nation and today there are still Asian games and the second is still related to natural disasters in NTB that have not yet been completed, "he concluded.
Reporter: Putu Merta Surya Putra
Source: Liputan6.com [bal]
Source link