JAKARTA, KOMPAS.com – The decision of the Electoral Oversight Body (Bawaslu) to appoint former convicts of corruption cases as legislative candidates (legislative candidates) is called into question by various parties.
Expert in the field of constitutional law of Gadjah Mada University, Yogyakarta, Zainal Arifin Mochtar considered, the action of Bawaslu was a form of resistance to the legislation.
The ordinance is the General Election Regulation (PKPU) Number 20 of 2018 which contains a prohibition on former prisoners who register as legislative candidates.
Also read: Bawaslu and KPU are asked to have the same opinion about the Ex-Corruptor Bacaleg
"So, if he is against PKPU, it is in my opinion a violation of the law," Zainal said when he contacted Kompas.com, Friday (31-08-2018).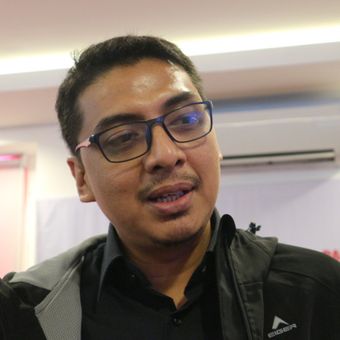 Researcher at Gajah Mada University (UGM) Anti-Corruption Research Center (Pukat), Zainal Arifin Mochtar when met at the PSI DPP office, Jakarta, Sunday (11/5/2017).
According to Zainal, Bawaslu could be reported to the Election Organizer Honorary Council (DKPP).
"If they (Bawaslu and KPU) head-twist (about PKPU), I can go to DKPP. The simplest DKPP can be a mediator, "said Zainal.
Bawaslu, continued Zainal, must understand that PKPU rules are binding, both KPU and Bawaslu.
If Bawaslu disagrees with the content of the PKPU, it can file a judicial review with the Supreme Court (MA), instead of ignoring its content.
Zainal said, only the Supreme Court had the power to abolish the promulgated prescriptions.
"It should be if Bawaslu does not like the rules, the judicial review," said Zainal.
Also read: Experts: Do not think that ex-corrupterers can be valid because they are not forbidden by law
"Because the rules (PKPU) have come true: the rules are already numbered, the administration has been promulgated," he continued.
Previously, Bawaslu passed five former corrupts to 2019 candidates, from Aceh, North Toraja, North Sulawesi, Pare-Pare, Rembang and Bulukumba.
During the bacalegistration period, the five former corrupts were declared ineligible by the KPU (TMS).
In response to the decision of the KPU, these five persons filed a dispute about the registration with the Bawaslu and the local Panwaslu. The result of the dispute states that they are all eligible (MS).
Bawaslu has former corruption prisoners as bacaleg because they are guided by the electoral law and not by PKPU number 20 of 2018.
The electoral law does not prohibit former ex-prisoners from becoming legislative candidates.
17 Bacaleg in 11 Identified Cities Ex Corruptors
Source link