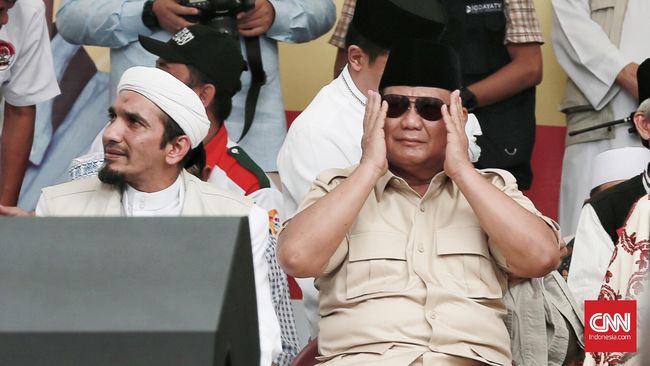 Jakarta, CNN Indonesia – Presidential candidate number 02 Prabowo Subianto recalling his childhood when he received support from Koppasandi (commander of the successful Ulama of Prabowo-Sandi), in the courtyard of GOR Soemantri, Jakarta, Sunday (4/11).
"I was shocked by the Koppasandi statement, it reminded me when I was young, I was in Kopassandha," Prabowo said during his speech.
Kopassandha or the Sandi Yudha Forces command is the name of the special troop regiment before it changes to the command of the special forces (Kopassus).
In 1976 Prabowo was known to have been involved in the Operation of the Nanggala Team in East Timor as one of the Kopassandha Group I Platoon Commander.
After Kopassandha changed to Kopassus, in 1995 Prabowo reached the position of Kopassus General Commander.
"So I thank you for this statement, this is of course the follow-up of the Ulema Ijtak and the constant support of our brothers who are currently in the holy land, Haji Habib Muhammad Rizieq Shihab, although far away but his enthusiasm continues us ", he said.
As a form of support, Prabowo received a Koppasandi-style vest and hat and tauhid lafadz from Kopassandi general commander Abdul Rosyid Abdullah Syafii.
In his introductory remarks, Rosyid said that Kopassandi was determined to be together with exponents 411 and 212 to work together to win Prabowo-Sandi in the 2019 presidential election.
Prior to the reporting activities, Kopassandi also carried out joint morning prayer activities led by Al-Khathath. Then the activity was filled with commemoration and tausiyah from a number of scholars.
In addition to Al-Khathath, other figures present were chairman of the National Winning Body (BPN) Prabowo-Sandi, Djoko Santoso, BPN member Eggi Sudjana, FPI chairman Ahmad Sobri Lubis and PAN secretary general Eddy Soeparno, secretary general of the working group Priyo Budi Santoso. (swo / age)
Source link