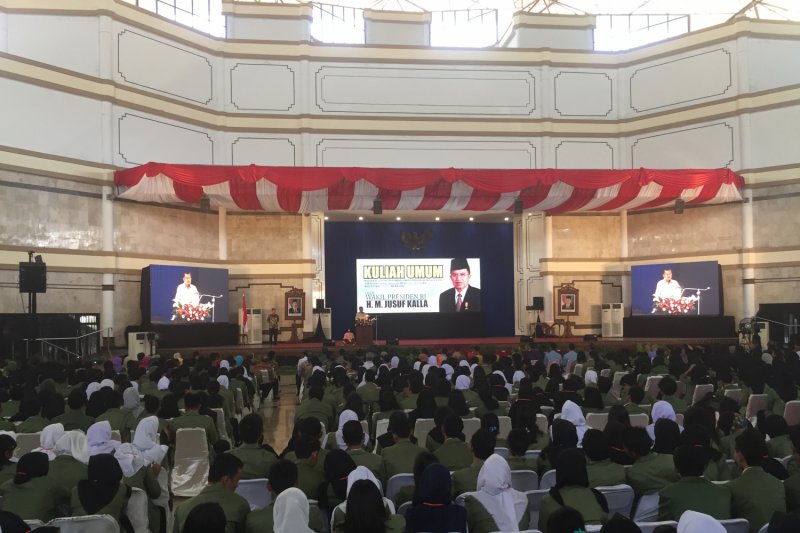 Yogyakarta (ANTARA News) – Vice President M Jusuf Kalla said that the probability of becoming an official (PNS) was very small, even only 3-4 per cent compared to existing graduates, so there was a movement of enthusiasm for entrepreneurship.
"The ability to become a civil servant is very small, because there are now two choices to become professionals or become entrepreneurs themselves", he said at a public lecture at the National Development University, Yogyakarta, on Sunday.
On this occasion he was present at the chancellor of UPN Yogyakarta M Irhas Effendi and deputy governor of the Special Region Yogyakarta KGPAS Paku Alam X and a series of regional forums for leadership communication.
The Vice President said that, with such a small chance, the spirit of the movement was needed to strengthen entrepreneurship.
By that young entrepreneur the possibility to develop the nation-economy becomes even greater. The gap can also be reduced by entrepreneurs and employment can be created.
The gap that creates economic injustice is one of the causes of conflict and national disintegration. "Of the 15 major conflicts in Indonesia's independence, 10 were caused by injustice," he said.
The Vice President said that technological developments have now created extraordinary opportunities for entrepreneurship.
The ability to see opportunities to become raw materials and to make a profit is the entrepreneurial spirit that is needed.
If in the past work requires a physical office or is tempted, a workplace is needed now. Everyone can work anywhere. Even at home.
The vice-president gave an example, at the moment without needing a person who can sell via the internet (e-commerce), it can even reach the whole world.
Moreover, Gojek, for example, although it is able to serve the largest ojek customers in Indonesia, but has no engine, he said.
To that end, the Vice President encouraged young people to become entrepreneurs, build the nation, bridge gaps and make the economy fairer.
Also read: Vice President working visits to Yogyakarta and Lombok
Also read: The vice president calls ASN a unifying nation
Pewarta: M Arief Iskandar
Editor: Sri Muryono
COPYRIGHT © BETWEEN 2018
Source link