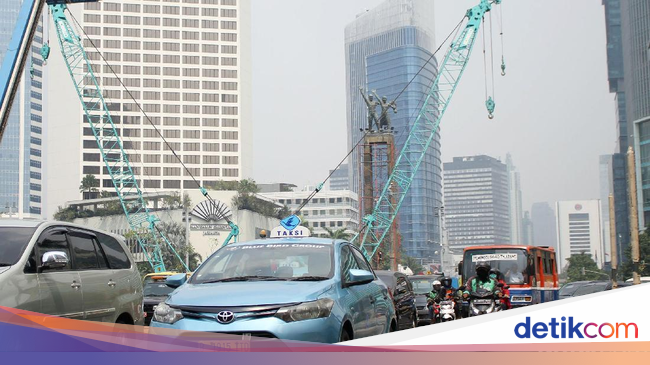 Jakarta
–
A number of roads in Jakarta have been closed and will be diverted to the marathon event of the Asian Games 2018. Follow the transfer route.
DKI Jakarta Kadishub Andri Yansah said that the closure of various roads in Jakarta took place on 25 and 26 August 2018.
"The activities will be held on Saturday and Sunday 25 and 26 August 2018 from 03.00 hours, 10.00 hours WIB," Andri said in the information received AFP, Thursday (23-08-2018).
The following roads are closed together with the route for traffic transfer:
1. At the time of the marathon activity, the closure will take place on the road (from the Senayan roundabout to the junction of Jl Mangga Besar) from 03.00 to 10.00 hours WIB
Jl Jenderal Sudirman
Jl MH Thamrin
Jl Medan Merdeka Barat
Jl Majapahit
Jl Gajah Mada
Jl Hayam Wuruk
2. Transfer of traffic flows as follows:
The traffic flow from the direction of the city is diverted to the left to Jl Mangga Besar
The traffic flow of Jl Sukarjo Wiryopranoto was diverted straight to Jl H Zainul Arifin
The traffic flow of Jl KH Hasyim Ashari, who was on his way to Jl Gajah Mada, was led back to You're running JL KH Hasyim Ashari
The traffic flow of Tomang / Jl Suryopranoto is diverted straight to Jl lr H Juanda
Traffic flow from Jl. lr. H. Juanda was led straight to Jl. Suryopranoto
The traffic flow of Jl Veteran III is diverted to Jl Medan Merdeka Utara
The traffic flow of Jl Medan Merdeka Utara was diverted to You're running Jl Medan Merdeka Utara
Traffic flow from Jl. Budi Kemuliaan is sent directly to Jl. Medan Merdeka Selatan
Traffic flow from Jl Medan Merdeka Selatan was immediately transferred to Jl Budi Kemerdekaan
The traffic flow of Jl Agus Salim is diverted to Jl Sabang or Jl Kebon Sirih
The traffic flow from Cideng / Jatibaru was led straight to Jl Kebon Sirih
The traffic flow from the direction of Tanah Abang was led straight to Sarinah (Jl KH Wahid Hasyim)
The traffic flow from Sarinah was directly diverted to Tanah Abang (Jl KH Wahid Hasyim)
The traffic flow from the direction of the Grand Indonesia on the way to the Hotel Indonesia Rotonde was diverted to You're running Jl Kebon Kacang Raya
Traffic from Jl lmam Bonjol to the roundabout Hotel Indonesia is diverted, turn right towards Jl Agus Salim
Traffic of Jl Galunggung that will turn to Jl Jenderal Sudirman, is headed straight ahead towards Jl RM Margono Djojohadikoesoemo
Traffic flow from Jl Dr Satrio and Jl KH Mas Mansyur to Jl General Sudirman, is directly forwarded viaduct Mas Masnyur
The traffic flow of Brass and Slipi, which goes left towards Simpang Semanggi, is diverted directly to Jl Gatot Subroto.
Traffic coming from Mulia Hotel / Jl Asia Africa turning left towards Jl Pintu Satu Senayan is headed straight ahead
Traffic from Jl Sisingamangaraja that goes to Jl Jenderal Sudirman is diverted and turn left at the Senayan roundabout to Jl Asia Afrika
(nkn / dnu)
<! –
->

Source link