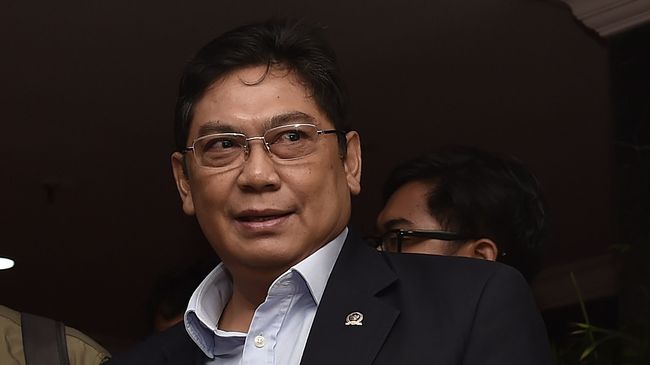 Jakarta, CNN Indonesia – vice-chairman of the House of Representatives Utut Adianto today came to the Corruption Eradication Commission (KPK) to undergo an investigation as a witness, after a week ago was absent due to other activities. He was reluctant to announce his knowledge of the alleged bribery of the Islamic Center project to the media team, carried out by Purbalingga's inactive regent, Tasdi,
"Yes, there are eleven questions about our ex-framework, Mr. Tasdi … Yes, to ask for relations," Utut told the media team after having passed an exam at the KPK Rode en Witte Huis, Jakarta, Tuesday (18 / 9).
Utut did not answer many questions about his relationship with Tasdi. He only said that Purbalingga was one of the constituencies besides Kebumen and Banjarnegara.
Utut expressed his sympathy for the case that struck the friend of his party.
"He is indeed a good person, but there is an error in the way," he said.
KPK spokesperson Febri Diansyah said that the Utut exam was a rearrangement of the previous schedule that should have taken place on Wednesday (5/9).
Tasdi and Utut are PDI Perjuangan cadres. Tasdi was immediately fired, shortly after he was arrested by the KPK.
The KPK has determined five suspects in this alleged bribery offense. They are Tasdi as the Purbalingga regent and Hadi Iswanto as the head of the ULP regency of Purbalingga Regency who have been appointed as recipients of bribes. Both would violate article 12, letter a or article 12, letter b or article 11 of the law number. 31 of 1999 amended by Act No. 20 of 2001 on the eradication of Corruption Crime in combination with article 55 paragraph (1) of the 1st Criminal Code.
Then there were three suspects who allegedly gave bribes, Hamdani Kosen, Librata Nababan and Ardirawinata Nababan. They would have infringed Article 5 (1) (a) or (b) or Article 13 of Law No 1. 31 of 1999 on the eradication of corruption crimes as amended by Act No. 20 of 2001 in conjunction with Article 55 (1) of the 1st Criminal Code.
Tasdi is called accept effort amounting to 2.5 percent or Rp. 500 million of the value of the second phase of the development project of the Purbalingga Islamic Center of Rp. 22 billion. However, the evidence confiscated by the KPK amounted to Rp 100 million.
The development project of Purbalingga Islamic Center is a multi-year project that runs for three years from 2017 to 2019, with a total project value of Rp77 billion, consisting of Rp 12 billion in 2017, Rp 22 billion in the fiscal year 2018 and Rp. 43 billion in fiscal year 2019. (AYP)
Source link