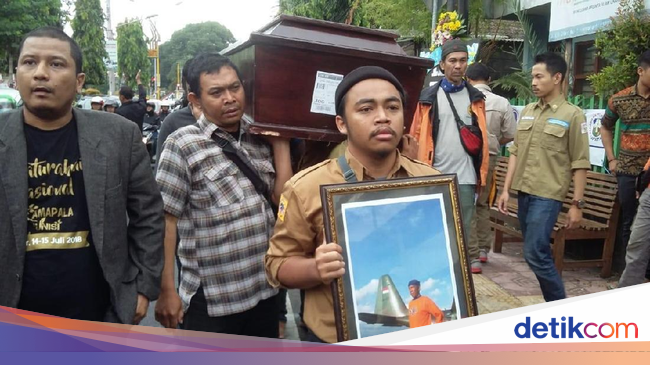 Sleman
–
A volunteer from Mapala UNISI Indonesia Islamic University (UII) Yogyakarta, Muhammad Rukman (54), died while carrying out humanitarian activities in Lombok, NTB. This morning the body of Rukman, or in a familiar way called Boni, arrived in Yogyakarta.
Boni died after the inauguration of a mosque for the victims of the earthquake in Lombok, Friday (8/31) night. "The deceased died last night at 8.30 pm," said Boni-volunteer colleagues in Lombok, Prasetyo Wibisono, on Saturday (1/9/2018) in Yogyakarta.
Boni's body was flown at 06.00 WITA from Lombok this morning and arrived at Yogyakarta at 07.00 WIB. The body was immediately covered by the UII Magister mosque UNISI Mapala Post, Cik Ditiro Street, Yogyakarta. As planned, the body will be buried this afternoon in Prambanan, Sleman.
Prasetyo said that Boni volunteered in Lombok since August 6, 2018 or one day after the 7th earthquake. Last night he was present at the inauguration ceremony of the mosque in Boyotan Baru Hamlet, Gumantar Village, Kayangan District, North Lombok Regency. The mosque was the first mosque that had been built at that location after the earthquake.
"The deceased gave a speech at the opening of the mosque, built by UNISI Mapala volunteers and residents." After a speech, the deceased suddenly collapsed and fainted, "he explained.
By other volunteers, Boni was quickly taken to the MER-C Health Center which was not far from the inauguration location of the mosque. But when examined, his condition had died. "Suspected of having a heart attack," said Prasetyo.
Prasetyo added, Boni joined the UNISI Mapala since the 1980s. During his volunteer work in Lombok, Boni was involved in a number of humanitarian programs with other UNISI Mapala members.
The deceased also presented himself during the tsunami in Aceh, the earthquake in Padang, the eruption of Mount Merasi, the earthquake in Bantul, the eruption of Mount Kelud, the earthquake in Pidi, Aceh, the last settlement of the earthquake in Lombok.
Also check out & # 39; A month has passed, this is the Lombok earthquake in numbers & # 39 ;:
[Gambas:Video 20detik]
(Mbr / mbr)
<! –
->

Source link