Taoiseach Leo Varadkar said he was & # 39; disappointed & # 39; was after the leader of Fianna Fail had rejected a request to discuss the expansion of the trust and delivery agreement.
The Fine Gael leader said he would continue to ask Micheal Martin to discuss an extension of the three-year deal, which ends next month.
After Mr Varadkar had published a letter to Mr Martin on his Twitter page, the opposition leader rejected the request and said he would discuss the process after the budget was adopted within five weeks.
Last week I wrote to Fianna Fáil's leader to open negotiations on an extension of the trust and supply agreement and an agreed election date in the summer of 2020. In the letter I set out the ambitious work program that we want to achieve for the next 2 years…. pic.twitter.com/DxZR6JQHD6

– Leo Varadkar (@campaignforleo) September 4, 2018
Varadkar said that an agreement to extend the deal now would "remove the political uncertainty" prior to the Brexit negotiations.
In his meeting with Inis Meain on Wednesday in Co Galway, Mr. Varadkar said he was disappointed with the speed with which his request was rejected.
"It's all in black and white for people to read with the question of removing the uncertainty that exists at the time an election will take place," he said.
"[Asking] that we have political stability for the Brexit negotiations and the Brexit itself, that we agree that there are no general elections until the summer of 2020 and that we agree
set of achievable goals that can be delivered by Fine Gael and Independents in the government between now and then. "
He added that he was less interested in the tone and content of Mr. Martin's reply letter, adding that Fianna Fail accuses his party of "spin and tactics and leaks".
He added: "I decided to be very transparent to write Micheal Martin a letter, to write everything in black and white and to publish after five days so that people could read it themselves."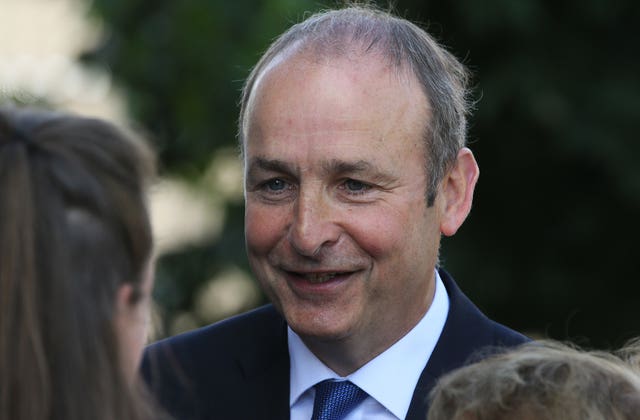 He denied accusations that he was hurrying and panicking and said it was "cautious" to seek a deal before the contract expires within five weeks.
"I think it's something we should have done months ago and I think it would have been easier to actually do it during the recess if you're in a less politically charged atmosphere," he continued.
He also denied that he was trying to make a general election, adding that the government of Fine Gael ministers and independents who had been in office for another two years could reach economics, taxes, social benefits, pensions, infrastructure for living standards, housing and healthcare.
Meanwhile, Mr. Varadkar repeated his support for the current President Michael D Higgins before the presidential election in November.
There are 11 people fighting for a place on the ballot and the Taoiseach said that while welcoming people who put their name forward, he would support Mr. Higgins.
He said, "It is a courageous thing to do, to present your name for election, to agree to put your name on a ballot.
"So I would always respect everyone who has the courage to do so, but it is my opinion and Fine Gael's view that President Higgins did an excellent job as a representative of the President.
us abroad and at home and we would like him to have a second term. "
He added that the Presidency was a constitutional issue under the freedom of information, but said that it is not something that he excludes.
– Press Association
Source link