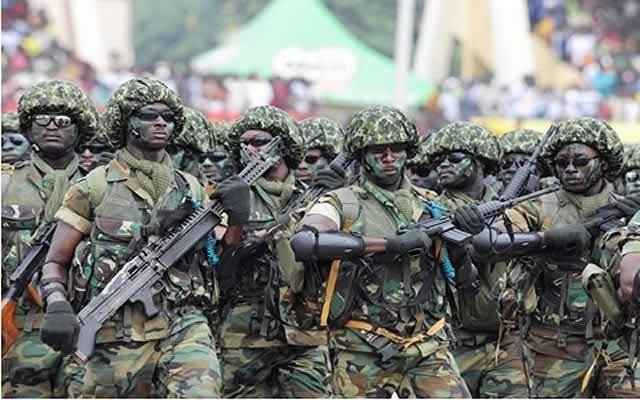 In a unique collaboration between Israeli Defense Force (IDF) and the Ghana Armed Forces (GAF), a team of seven IDF officers is scheduled to hold a three-day Counter-Terrorism Training in Ghana. to the 64 Regiment Special Unity of the Armed Forces of Ghana.
This special collaboration between the IDF and GAF ​​is led by the Israeli and Ghanaian Chiefs Defense Staff and the Ministers of Defense.
The Counter-Terrorism Training is scheduled from Monday 3 to Wednesday 5 September 2018 in the Asutsuare military base of the Ghana Armed Forces.
Approximately 25 military commanders are expected to benefit from the training, including shooting ranges, Krav maga (an Israeli self-defense and fighting system) and building skills for dealing with the situation of hostages.
The trainers are senior officers from various units and field missions with a large expertise in the field of counterterrorism tactics. A final exercise and closing ceremony will be held on Wednesday 5 September in the Asutusare military base for senior officials, in the presence of the chief of defense staff.
This training is the second of its kind and is led by the IDF in the world and the first ever in Africa.
Military relations between Ghana and Israel date back to 1959 when the IDF cooperated with GAF to build GAF's Air Force.
The relations ceased in 1964, but they were renewed with the reopening of the IDF Military Attaché Office in Africa in 2017.
The current training is led from the Ghanaian side by the Director-General, Air Commodore Wayoe and deputy director, Colonel Ako Adjei and from the Israeli side by IDF Military Attache & # 39; Col. (Res) Aviezer Segal and director of the Africa Division at the Israeli Ministry of Defense (SIBAT), Lt. Col. (Rtd.) Asaf Dvir. In the past year, three GAF staff attended various training courses and seminars in IDF's International Relations and Counterterrorism units.
A total of 871 Ghanaian soldiers have served in the UN peacekeeping forces in the north of Israel, in charge of monitoring military relations with Lebanon (UNIFIL).
Currently, the head of the UN peacekeeping mission in northern Israel, in charge of monitoring military relations with Sirya, is a Ghanaian officer, accompanied by a 5-member staff of Ghanaian soldiers.
Story by Ghana Myjoyonline.com | GN
Source link