18-08-2018 | International solidarity movement Ramallah Team
A description of the events of Saturday 18 August, of the Norwegian ISM volunteer, attacked and shot by a soldier in Kafr Qaddoum.
I, Kristin Foss (43) work as a volunteer for ISM (International Solidarity Movement). ISM is a non-violent, Palestinian leadership organization that responds to requests for assistance from Palestinians, who for various reasons need international witnesses and / or protection. This can be for demonstrators, when houses are broken into by soldiers or colonialist settlers on a daily / night basis, children who have to go to school because of being harassed by colonial settlers, who have been told that their home or village is to be demolished, that their access to water is closed or broken, etc.
I am fully aware that this task involves risks and that I will be exposed to dangerous situations, but this does not liberate Israel from its responsibilities with regard to international law. Israel portrays itself as a democratic state, with â € œThe most moral army in the world â € "as such, the minimum that can be expected from them is that they stick to international law.
On Saturday, August 18, an Icelandic colleague, Anna, and I traveled to Kafr Qaddoum, a village near Nablus, the West Bank. The inhabitants had asked for our presence every Friday and Saturday because of the violence of Israeli soldiers.
The main road to Kafar Qaddoum was closed for residents 7 years ago by Israeli soldiers. The road was built and preserved by the ethnic population in the region, through generations. Today, the road is only open to Israeli colonizers, in illegal settlements.
The local population of Kafr Qaddoum now has to drive 14 km, instead of a couple, to arrive at Nablus, where many residents study and work. The residents protest every Friday for 7 years before the closure of the road – now also on Saturday. Pre- or during demonstrations, the village is invaded by soldiers shooting live ammunition, rubber-coated steel bullets and tear gas on demonstrators. They also spray smelly water (untreated sewage) into the homes of residents. Several residents have been shot at with live ammunition, including children and the elderly. The inhabitants themselves have no weapons (!) – they want to be able to demonstrate in peace and they want their way to be open for them to use.
When we arrived on Saturday, there were already collisions. Soldiers were present at 2 points in the village. From both points they photographed with rubber bullets, on a group of mostly very young boys, who threw stones at them. Anna and I were present at one of the points where we observed and made sure that our presence was known to the soldiers.
Photographing took about one and a half hours before it began to calm down. Apart from some tear gas inhalation, there were no injuries at this time.
When things were calm, I was approached by an elderly person who asked if we could please help him. He had gone out much earlier because he was going to get in his car to pick up his wife. He did not notice that his way of driving was full of soldiers. The soldiers stole / seized their car and keys and parked him like an economical shield in the middle of the road. Because it was calm, we agreed to accompany him to talk with the soldiers and to ask for his car back. No shooting or stones were thrown at this moment. He, Anna and I started to walk to the soldiers, with our hands in the air. I had my camera phone in one hand. The man walked surprisingly fast and was fast with the soldiers, while Anna and I stopped 20 meters behind us, still with our hands up. I'm currently filming.
One of the soldiers calls me something in Hebrew, I do not understand, but I yell back that the man just wants his car back. Then he shouts that it is dangerous. I scream that it is only dangerous because he is aiming at a machine gun. Those far behind me posed no danger to the soldier nor to me. One shot is shot while I am screaming, another shot is directed at me and touches me in my lower abdomen. I would say about 20-30 meters. It is absolutely no doubt that I was deliberately targeted and shot.
Just follow the shooting
It was extremely painful and I was in a state of shock, but I was able to quickly retreat behind a brick wall. I was helped by Palestinians who brought me to the nearby ambulance of the Red Crescent. I got the immediate treatment of my wound, the bullet had pierced a skin, so there was some blood, a huge lump and I was already black and blue. The ambulance staff was incredibly professional and calm.
After about 5 minutes I wanted to go back to confront the person who had shot me – from a safe distance. I was angry that I was shot, while I was unarmed, after declaring our mission â € "and while I was absolutely no threat, Anna had to retreat to the ambulance because she was severely injured by the inhalation of tear gas. the protest a little after, but then decided to retire because I felt very vulnerable and I was afraid they would shoot me again.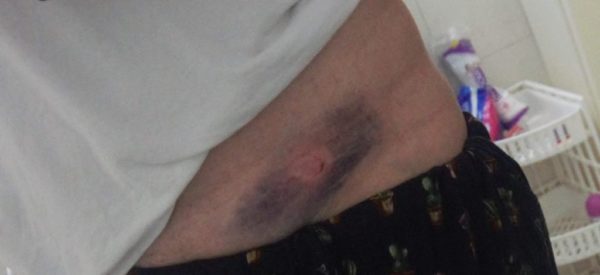 I would add that I know that I am very lucky and that it was. I am Norwegian and have been protected from this kind of violence all my life. I do not have to be here and I can choose to go home at any time. This incident, however, only strengthened my determination to continue to fight in solidarity with the Palestinians – who, unlike me, have no choice. Thousands of Palestinians have only been hit this year. Rubber-coated steel balls and live ammunition. Palestinians are being shot for the crime of demonstrating for their basic human rights – or simply for the 'crime of being Palestinian'. Although my case is blown up in the media, they remain unnoticed.
It is a nerve-racking feeling, the knowledge that a stranger has directed his gun at me, perhaps discussed with me shooting his colleagues – and then made the choice to shoot me down. That someone wanted to hurt me, without knowing anything about me – to shoot me in the knowledge that it has no consequences for himself. Palestinians have to live here every day. The knowledge that an Israeli sniper can have them at any time in their range â € "and will shoot to kill or to mutilate, shoot them, shoot their children, their parents, their friend, their loved ones, Violence. I am, I can and will use my story to emphasize what is happening here in the Norwegian media, but I do not forget, even for a second, what happened to me, but a small taste, a miniscule taste of how life look like an Israeli occupation, liberated Palestine!
In solidarity!
Kristin Foss, activist at the International Solidarity Movement (ISM)
Human Interest 08/12/18: Â Settlers initiate â € ~ Tourist Centerâ € ™ in Silwan
Source link