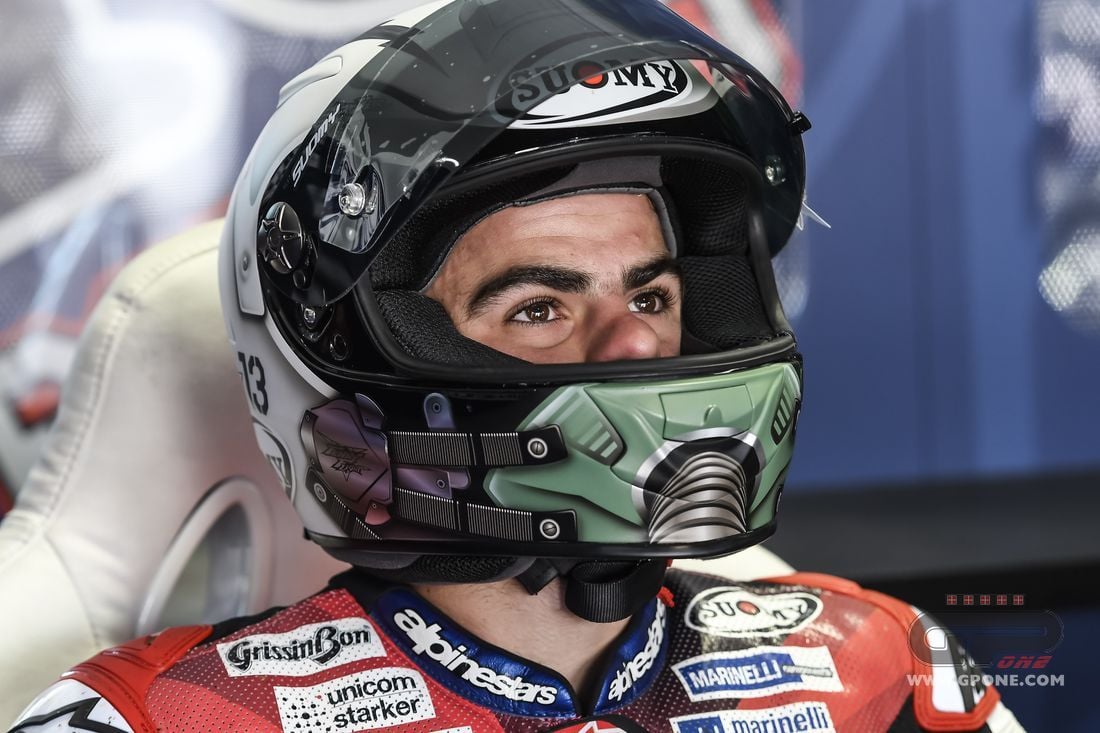 Romano Fenati returns to racing in the World Championship, in Moto3, and the first one to be surprised, it seems. He took refuge in Ascoli after the storm that hit him after his success in the Misano GP, but now the suitcase is ready to travel the world again with the bike. "You know this news overwhelmed me? "He laughs when we ask him for a response to his return.
Why?
"Because in reality there is no signed contract yet. After reading it I called Stefano (Bedon, Snipers & # 39; team manager) to ask if he had my digital signature (Laughs) ".
But it's just the missing signature …
"Yes and I see this all as something very beautiful, because it was not only born of me or of them, but from both sides. We asked ourselves: why do not we put together a project together?".
The answer is clear …
"I have always had contact with Stefano, with the Cecchini family, with the whole team. I know very well that they had reluctantly shot me, so to speak, they were not happy that they had done it".
In the days after the Misano GP you said that your pilot days were over. Why did you change your mind?
"I did not want to run for so long to do it, but with a long-term project. The person with the Snipers team will be that".
What did you miss during the races?
"That mix of fear and adrenaline that you feel before you leave, when you do not know what's going to happen: that's the biggest emotion you hear. I am not one of those drivers who have to run for strength, I like to learn new things and I never stay without knowing what to do. What I like is cycling, you do not have to race all over the world to experience that pleasure, you can enjoy it on the street".
So why do you come back to run?
"Of course there is the desire to do this as the desire for revenge, I am sincere. Then there are certain indescribable and unrecognizable emotions that I miss. I want to go back and run away to try again and keep improving. Someone said that for a nonsense I have frustrated all my work, I think I can leave that episode aside and go back to the job".
After the crime of Misano, many were not tender with you …
"Many have judged, insulted and threatened me for a gesture that was certainly wrong, but they reacted to violence with violence by throwing fuel on the fire, instead of turning it off.. I thought I saw a thief who said that another thief was not stolen and this made me put my hand on my heart".
In what sense?
"I am the first to do self-criticism, to admit what I did and to say that I was wrong. I did not want to drop Manzi or hurt him, it was a way to tell him to stop, because we were in danger of falling for more than one round. It was a gesture that was dictated by the moment, dall & adrenalina, but those who attacked me harshly. What can they do with a little adrenalin in the body?".
How did you react to everything that was released?
"I managed to pull away, to think positively and about the good things in life. I am twenty and we are all rotten at that age".
Have you learned an important lesson?
"Certainly, because you never stop growing. I know that what I have done is not good, but it is also magnified".
Would you be ready to clean up with Manzi?
"There would be no problem with me, I would normally find it if he wanted to".
How would you describe this as your return?
"A turning point, even though I honestly do not know what to expect (Laughs). I always see the glass half full, so it will certainly be an opportunity to grow, mature. No one is ever completely wise, we all learn and of course we are wrong".
You return to Moto3, you have the opportunity to pursue that title that has escaped you so far …
"We are not talking about certain things, because I am a dreamer and then strange thoughts come to mind (Laughs). Who knows, it is not fate that made me return to Moto3 …".
Source link