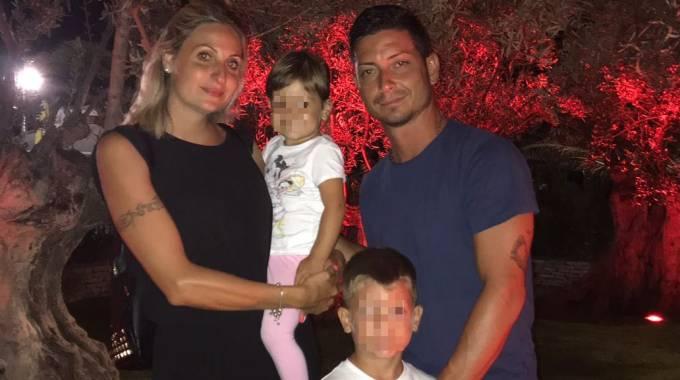 Pescara del Tronto, (Ascoli), 24 August 2018 – "What we have experienced will never be forgotten." The more time passes, the more memory becomes alive. "So at a distance of 2 years after the tragic night of 24 August, come back to talk Valentina Bartolucci. It was the ninth month of pregnancy when the most violent earthquake of the last 30 years brought down his home and the land where he grew up, destroying the lives of many friends and family members. But the memory, the hope and the desire to return to smile in the streets of Pescara del Tronto are not dead, they will never die. And the broken hearts of a whole family can be beat thanks to her: Michelle, the first child born after the earthquake. September 19 will be 2 Age and to celebrate it will be his family, miraculous survivors: his father, Federico Campitelli, his brother Gabriel and his mother, who comes back today to remember the night of the horrors.
Read also: Premier Conte at the Torch Relay in Arquata – Pieve Torina & # 39; s Anger: "Reconstruction does not exist"
What happened that night?
"I was in Pescara with the whole family: my husband, my only 3-year-old son, my brother and sister-in-law. Then there was her, my Michelle in me. We all slept when hell broke out. At 3.36 a loud bang broke the silence of the night and everything around us began to shake with extreme violence. The earthquake lasted a lot and everything came down ".
How did you save yourself?
As soon as I was aware of the danger, I took Gabriel and led him to the living room, where we lurked under the lintel of the door. Meanwhile one of the walls collapsed, and even the salon collapsed before our eyes. Then the darkness fell and the room was full of dust. We spent hours in the rubble, and then suddenly we had a gas smell. So we tried to leave and luckily we found my husband's mobile phone, which made us a torch. We found a way through the rubble, but we could not walk on it, so we used a mattress. We let it go through the opening and sat there, from what was left of the house. From there we immediately called the rescue. Everything around us had gone up in smoke. & # 39;
Have you returned to Pescara more?
"Yes, we sometimes came back, but everything stayed exactly the way it was two years ago, a shame!"
Shortly after Michelle was born, the first child to see the light after the earthquake. What did you feel when you saw it for the first time, just a few days after the horror?
"Seeing my daughter was an indescribable emotion, at which time I thought of the worst, she gave us hope"
And his son Gabriel, who was only 3 years old at the time, still remembers that night?
"Gabriel only remembers a strong storm and fallen houses, and I hope that one day even the few that are still in his head will be completely erased."
Time passes, but reconstruction seems far away …
"Yes, there is too much bureaucracy and little desire of the city to find a housing solution for non-residents, or at least a tool to get as many people as possible back in. I believe there is not enough of the side of the administration. & # 39;
Meanwhile, it is certain, Pescara will not be rebuilt where it was. If she could choose, where would she like to see her rise?
"I wish he would come back to life, exactly where he was, but unfortunately nothing will return like before".
What is your strongest memory of the country that no longer exists?
"My youth is there, I will always remember every moment, every stone, every small corner of the country, I miss everything so badly."
Source link