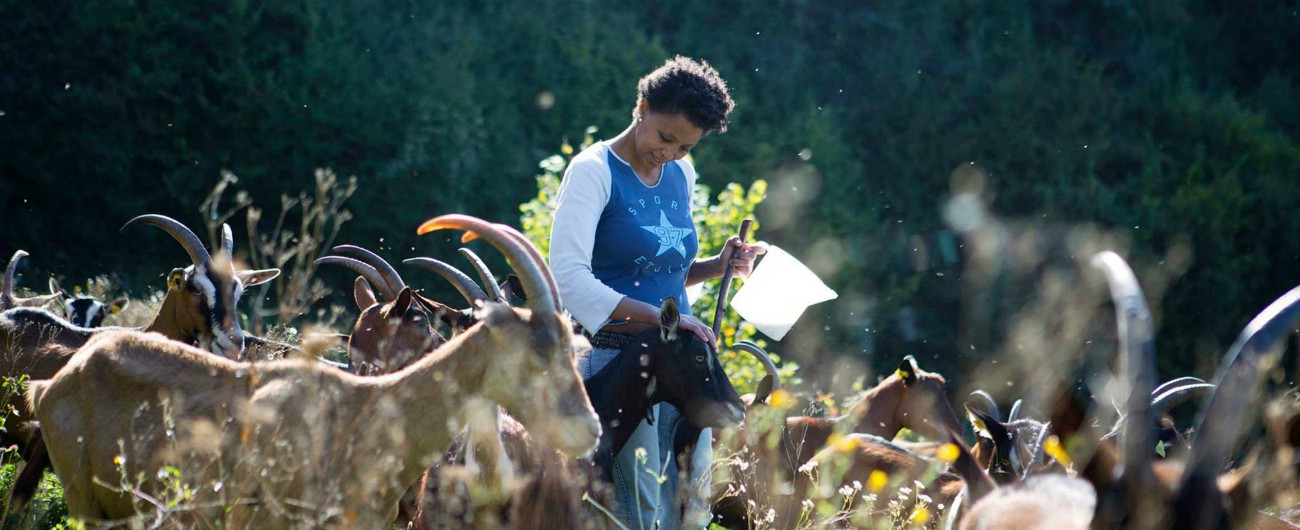 It all started with the first threats racist and the complaint to the carabinieri. Then the tires of the car went through, one goat killed with a chest removed by a cutting weapon, two others are dead and the dog suddenly disappeared. Finally physical aggression. A man grabbed her by the neck: "She told me"ugly negra& # 39; & # 39;I will kill you& # 39 ;, & & # 39; you have to go & # 39; & # 39 ;. Agitu Ideo Gudeta she managed to come loose and run away. Now he has told everything to local newspapers Trentino Alto Adige. She, Ethiopian who fell in love with the mountains, lived in it for a long time valley of the Mocheni where he raises and produces goats cheese with his organic business "The happy goat"A story of integration that has been told by Reuters and more recently also out New York Times.
The manager, they report all regional daily, is a neighbor. "Whoever persecutes me is not a mocheno and the carabinieri know who it is: I photographed it while I dropped the tires from the car. complaints of all episodes related to this bad case ", Agitu said on theSouth Tyrol. The Ethiopian shepherd actually means to specify that "I am very good in this valley and I have built up so many very nice relationships here. I felt accepted of the residents and I had the opportunity to start my business. "It comes from everywhere a year but that has to do with this neighbor: "Spite to no end – explained a ilDolomiti.it – tires that have been drilled through the night, damage to machines and every time we pass for his property insults infinite, cursing, threats. But things have degenerated in recent months. His racism exploded".
Agitu, writes itSouth Tyrol, escapesEthiopia for a arrest warrant, after having fought with a corrupt regime and against the land grabbing, the practice for which multinationals buy large plots of land without the permission of the communities that live there and use it. A Rome he studied sociology, then the transfer to Trentino first in Vallarsa and Val di Gresta, and finally in the Mocheni valley. Here thanks to the sale of the former school of Frassilongo he has made his own dairy where, he explains to the Bolzano newspaper: "I also work for it trainees who want to learn how to make cheese ".
Everything perfect for her and hers 150 goats until about a year ago, when the first episodes of racism began. Two in particular those who care for Agitu. "One morning I found a dead goat and I called the foresters," he said ilDolomiti.it – and immediately the Wolf as responsible. We were told that a breast was clearly removed with onecut weapon"Other violent incidents while he was grazing, with attachments threats and insults. Then "one day I worked at the milkmaid and I was bent with my back to the door when I suddenly got caught from behind. He grabbed me by the neck and yelled & # 39; I kill you & # 39 ;, & # 39;you must die& # 39 ;. I managed to free myself by giving him one football and I ran away to the house. "It is the story of the latest aggression, the most violent.
The mayor of Frassilongo, Bruno Groff, he called "far-fetched e paradoxical"When it happened." I can not understand that in my community, in the area where I live and live, similar actions can take place and, quite frankly, I'm embarrassed"He wrote." What has been reported by the Ethiopian predecessor is unfortunately the demonstration of one hatred climate and racism that also spreads on our territory ", is the comment of the CGIL from Trentino. The municipal councilor of the Democratic Party of Trento Roberta Zalla Agitu defines "an extraordinary woman and entrepreneur of our country." It produces excellent cheeses and ricotta from goats bred with care and love, protection the landscape and life in a small valley of Trentino. An entrepreneurial challenge culturally and feminine".
Image from Facebook
Source link