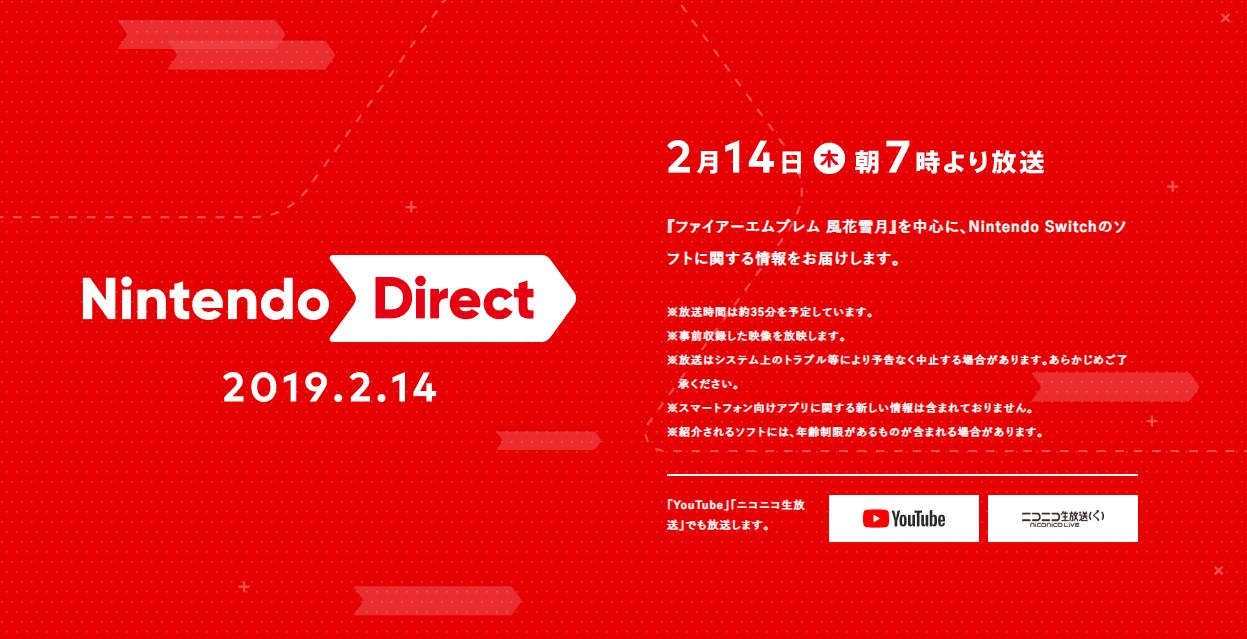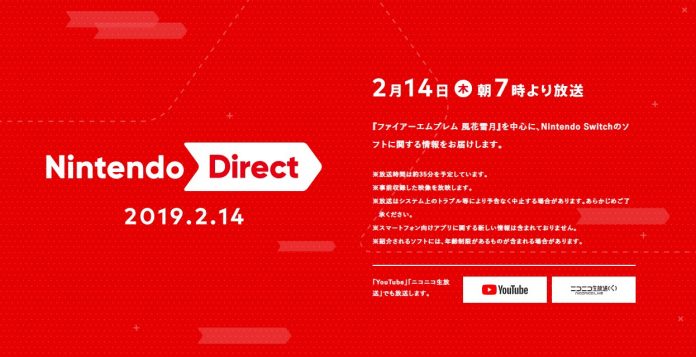 Nintendo announced today that it will broadcast "Nintendo Direct 2019.2.14" on February 14, 2019. It will be broadcast from 7 am in Japan. At the same Direct we plan to provide information about the Nintendo Switch software for about 35 minutes, centered on "Fire Emblem Fuka Setsuki".
I will broadcast "Nintendo Direct 2019.2.14" from 7 am on 14 February (Thursday). We will provide information about the software of Nintendo Switch with the central theme "Fire Emblem Fuka Setsuki". The broadcast time is about 35 minutes. #NintendoDirectJP https://t.co/tqYYlJ9OaS

– Nintendo Co., Ltd. (@ Nintendo) February 12, 2019
In retrospect, Nintendo was last broadcast on September 14, 2018. We planned to implement on September 7th. Immediately was postponed for a week given the impact of the eastern earthquake in Hokkaido. Until then, the program, which was broadcast once every three months, was discontinued since the broadcast last September. Meanwhile, it has been delivered in various forms of information in various forms, such as "Super Smash Bros. Smash Bros. SPECIAL Direct 2018.11.1" and "Metroid Prime 4" development restart, but it will be "Nintendo Direct" after a long absence .
There is little published information, but there are some new information that can be confirmed. First of all, the phrase "Nintendo Switch and information about the Nintendo 3DS software will be delivered" changed to "Nintendo Switch software information will be delivered." Since Nintendo Switch plays the main role, it will not be wrong to spend a lot of time on the hardware, because new information about the smartphone application is written together as not unveiled.
In addition, for European announcement tweets, "A completely new # Nintendo Direct is almost here!" Is included in the format for Japan and the United States. "Nintendo Direct" is another goal area, the rough lines and style are the same. However, the title is also slightly different, so the content is arranged by region. The direct for Japan is not necessarily the "entirely new" content, but it seems likely that new forms and new surprises are being prepared because the period is empty.
A completely new one #NintendoDirect is almost here! Tune in on Wednesday 13 February at 23:00 for about 35 minutes of information about the upcoming #NintendoSwitch titles, including new details # Fire element: Three houses.

► https://t.co/FRJvjUo5ao pic.twitter.com/GkuE8xHQeV

– Nintendo of Europe (@ Nintendo Europe) February 12, 2019
"Fire Emblem Flower Snow Moon", of which it was announced that disclosure of information would be announced, would be released in the spring of 2019 at the time of announcement at E3 last year. Although the genealogy of "awakening" is inherited, the newest work was said to be a system in which the character design was redesigned, many soldiers, and so on. It has also been announced that "there is a part that allows you to freely move the protagonist and communicate with the characters", and I can not wait for the disclosure of information in the same direct way.
Source link