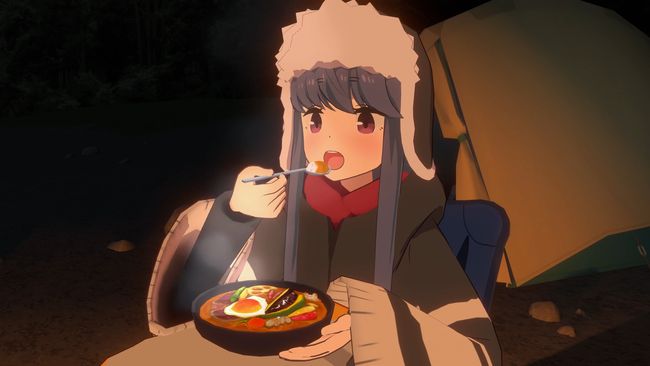 Gem Drop is a VR Compatible Virtual Camp Adventure Today (December 1, 2020)"Yurukan △ VIRTUAL CAMP"fromLake Honsu(PC / PS4 / Nintendo Switch / iOS / Android) と"Foot campground edition"(PC / PS4 / Nintendo Switch / iOS / Android) has announced that it will be released in 2021.
This work is a VR game in which you can experience the camp at the foot of Mount Fuji and Lake Honsu, where you can overlook Mount Fuji with the characters of the TV anime "Yurukan △". The conversation of the character is in full voice and you can enjoy the feeling of being there together.You can watch the gameplay videoPV No. 1Also open to the public so if you are interested in the content let's check it out.
"Yurukan △ VIRTUAL CAMP"
Released this winter!
Virtual camp at home!
Welcome! To the world of VR games!
"Yurucan △" is virtual on smartphones and game machines. Feel like camping on Mount Fuji anytime.

Gem Drop Co., Ltd. (Chofu City, Tokyo) this winter is releasing a virtual camp adventure "Yurukan △ VIRTUAL CAMP" in two versions, "Lake Honsu" and "Campground at the foot".

■ What is Yurukan △ VIRTUAL CAMP?
3D conversion of Yurukan camp mood. Rin and Nadeshiko like to camp at Lake Honsu and the campsite at the foot of the mountain. In the Honsu Lake edition you become "Nadeshiko" and with "Rin", and in the foot campground edition you become "Rin" and with "Nadeshiko". A relaxing camp experience together!

▲ Take a photo with your smartphone and send it to the members of Nokuru.

▲ Try to photograph a beautiful landscape

▲ You can enjoy the passage of time in the great outdoors.

■ Enjoy a relaxed camp for just two people
A relaxing time to spend a day near Mount Fuji. You can enjoy discovering and experiencing different situations with Rin and Nadeshiko and the usual members in full voice. With a smartphone you can play as if you were holding the camera on the spot, and with VR you can play as if you were on the spot!

■ What is "Yurukan △"?
A manga serialized in Hobunsha "Manga Time Kirara Forward" and currently serialized in the manga app "COMIC FUZ" (Hobunsha). Through the camp I draw "delicious rice, beautiful landscapes, beautiful places, such a casual daily and extraordinary accumulation". From January 2021 the newest series "Yurukan △ SEASON2" will be broadcast.

■ Cast
Nadeshiko Kagamihara (Yumiri Hanamori) / Rin Shima (Nao Higashiyama) / Chiaki Ogaki (Sayuri Hara) / Aoi Inuyama (Aio Toyosaki) / Ena Saito (Rii Takahashi) / Narration (Akio Otsuka)

Title summary
title
Yurukan △ VIRTUAL CAMP ~ Lake Honsu ~
Yurukan △ VIRTUAL CAMP ~ Foot camping ~
Genre
Virtual camp adventure
Delivery date
This winter (2021)
Delivery platform (planned)
PlayStation (R) 4 / Nintendo Switch / Steam / iOS / Android
Associated voice
Japanese
Corresponding subtitles
Japanese / English / Chinese (Traditional / Simplified) / Korean / French
price
Inconclusive
Official site
https://yurucamp-v.com
Our site
http://www.gemdrops.co.jp
Our official Twitter
https://twitter.com/Gemdrops_JA
Correct notation
(C) Afro / Yoshibunsha / Outdoor Activity Committee (C) Gemdrops, Inc.

* The Nintendo Switch version is compatible with VR Goggles Toy-Con, the PS4 version is compatible with PS VR, and the Steam version is compatible with Oculus Rift and HTC Vive. In addition, this work can be played without a VR device.
Source link