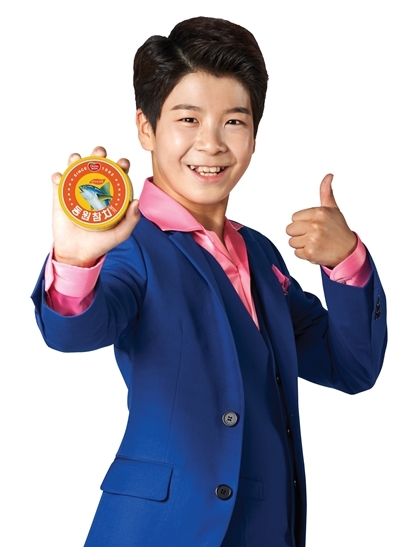 ▲ Dongwon tuna model trot singer Jeong Dong-won poses with a product./Photo = Dongwon F&B
[미디어펜=이서우 기자] The recent infection with the coronavirus (Corona 19) has increased interest in protein-rich healthy foods worldwide and the demand for canned tuna, which is both cheap and nutritious, continues to grow.
Canned tuna is a healing food that aids in mental health. US Time magazine named canned tuna as the " 16th curative food " in 2014 and reported that a large amount of omega-3 in canned tuna is effective for mental health, such as preventing depression.
Tuna is considered a representative high-protein and low-calorie food. 27.4% of all nutrients are protein, and it has the highest protein content among fish. Compared to meat such as pork (19.7%), beef (18.1%) and chicken (17.3%), the protein content is higher. On the other hand, lipids are only 2.8% of the total nutrients that make up tuna.
According to the Wall Street Journal, retailer Costco has set a limit on the number of tuna cans a consumer can buy from stores in the United States for a while.
In fact, sales of tuna cans and tuna pouches in the US grew 29.6% year-on-year in the first half of this year based on ACNielsen, and Starkist, the No. 1 tuna can market in the US, experienced sales growth of 17.47%.
The rich nutrition of tuna cans can also be found in the case of a mine collapse in San Jose, Chile in 2010. At the time, 33 miners buried 622 meters underground waited for rescue by taking two spoonfuls of tuna, half a biscuit every 48 hours. half a cup of milk in an underground shelter, and they were finally rescued in 69 days.
It was a miracle that was possible because the protein from tuna, carbohydrates from sweets and fat from milk were consumed evenly in small amounts.
◇ Rich in canned tuna, omega 3, DHA, selenium, etc.
Researchers from Rush University in the US published a paper in the Journal of the American Medical Association in 2016. A study of the brains of 1,000 older 80s showed that if they ate tuna sandwiches more than once a week, their memory was compared with the control group. This was better, and Alzheimer's was also less likely.
The research team then examined the subjects' brains to measure selenium levels and analyzed findings related to diseases such as stroke and dementia. As a result, it was confirmed that consuming tuna steadily reduces the risk of dementia due to less brain damage. In particular, it has been shown that even people with 'APOE fat protein', a factor that causes the onset of Alzheimer's disease, can delay onset if tuna is consumed consistently.
DHA, a nutrient high in tuna, is responsible for 10% of the fat in the brain. It is known to help prevent deterioration in brain function and improve poor learning. It has also been reported to improve depression, improve concentration, and relieve irritability. Experts advise pregnant and nursing women to consume 300 mg of DHA per day. In adults over 30, the DHA in tuna plays a role in the prevention of diabetes and allergies.
In addition, omega-3 fatty acids, which are high in tuna, can lower blood pressure and suppress inflammation, and help prevent disease in adults. According to a study by the American Heart Association (AHA), omega-3 fatty acids reduce the risk of adult and heart disease by lowering blood cholesterol and blood pressure.
◇ Dongwon tuna, a popular national dish since 1982
Canned tuna appeared in the 1980s when Korea entered a period of high growth and established itself as a convenience food in the 1990s. As foods rich in nutrients and easy to cook became popular, the demand for tuna cans also increased.
Dongwon Tuna has maintained the No. 1 position in Korea since it first launched canned tuna in Korea in December 1982. It has been selected by consumers in the food industry for over 30 years and is responsive to changing trends. Dongwon tuna was loved as a convenience food, from expensive high-end food in the 1980s to Kami tuna in the 1990s, and as a health food that emphasized 'health' in the 2000s.
Welfare fever has been blowing in recent years, highlighting the health of tuna. Dongwon F&B promotes the concept of "marine health". These communication strategies are rated as a second heyday of the tuna in combination with the trend towards health in welfare.
Academia and industry are also paying attention to the health of seafood. A blue fish caught in the clean South Pacific, tuna is not only a high-protein and low-fat food, but also rich in various nutrients such as selenium, DHA and omega3.
An official at Dongwon F&B said, "Dongwon tuna, a high-protein food, is attracting consumers' attention at a time when healthy food consumption is very important," said a Dongwon F&B official. "We've developed and distributed recipes to make it easy for millennials to use canned tuna. We plan to showcase canned tuna flavored with ingredients."
[미디어펜=이서우 기자] ▶ Check out other articles
Source link