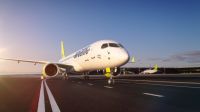 The Latvian airline airBaltic carried 2,770,047 passengers a total of eight months this year, or 18% more than in this period last year, on destinations in the route network of the airline in Europe, Scandinavia, Russia, the CIS and the Middle East. , the head of business communication of airBaltic Alice at the height of LETA. Briedé.
In August of this year airBaltic carried 440,562 passengers, or 14% more than in the same period last year. In general, airBaltic transported 18% more passengers this summer than last year. AirBaltic operated 37,186 flights in the eight months of this year. In August, the airline operated 5341 flights, an increase of 11% compared to the same period last year. In the eight months of 2018 the flight utilization rate was 77%, but in August this year it was 84%.
The punctuality rate of 15 minutes of airBaltic flights in the eight months of this year reached 86%. Briede noted that more than 86 of the 100 AirBaltic flights departed at scheduled time or with a delay of no more than 15 minutes. Less than 1 hour delayed less than 2% of the flights.
The LETA agency reported that the total turnover of the company last year was 353.639 million euros, an increase of 19.6% compared to 2016, while the group's profit increased several times to 4.703 million euros.
airBaltic offers direct flights from Riga to more than 70 destinations, and offers connections to destinations on the route network of the airline in Scandinavia, Europe, Russia, the CIS and the Middle East. airBaltic also offers direct flights from Tallinn and Vilnius.
The Latvian state holds 80.05% of the shares of airBaltic, while the financial investor, the Danish entrepreneur, Lars Tusen, owns "Aircraft Leasing 1" – nearly 20% of the shares.
Aviation Industry market research and analysis magazine OAG Aviation Solutions analysts, who collected and analyzed punctuality indicators for more than 50 million flights, have recognized airBaltic as the most punctual airline in the world in 2017. airBaltic has topped the list of worldwide punctuality indicators for the past four years. Last year, airBaltic carried 3,523 million passengers, an increase of 22% over the previous year. Meanwhile, airBaltic's flight frequency reached 99.43% in 2017, which means that the airline operated more than 99 of the 100 scheduled flights last year.
Source link