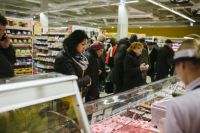 Society's satisfaction with life increases with the increase in the number of people and people: this year both the average wage and the average pension increase considerably faster than inflation. The growing purchasing power is favorable for retail companies, whose turnover increased by 5.1% in the first seven months of this year compared to the same period last year.
The best is for car dealers who have grown their turnover by 5.9%. The sales volumes of supermarkets are 5.3% higher. With a growth of more than 30% in this section, specialty stores in food and drink are falling, with alcoholic drinks outlets that have recently grown like mushrooms in the rain, and which are highly valued by lower countries due to lower prices.
Retail sales of other non-food products grew by 4.7%. Surveys show that retailers are fairly positive about increasing volumes in the coming months. The arrival of new trade chains in Latvia is also a sign that companies see the opportunity to make money.
The economy continues to grow strongly, which is increasingly reflected in the population's portfolio, enabling them to buy a larger purchase. The interest in home loans is slowly increasing, which will also stimulate the demand for various homemade goods.
The public interest in new stores could temporarily give an extra boost to the total sales of the sector. The sector will continue to grow steadily, but significantly faster growth rates than we see today will be difficult to achieve and sustainable in the light of the declining number of buyers.
Source link