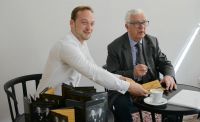 On Thursday, in a warm atmosphere, the album "Raimonds Pauls and Daumants Kalniņš" was opened in the "Daile" music house. Meeting in Fine Arts, in which the concert program with the same name is recorded. During the event, Daumants and Maestro played two songs from the new album, while the poet Inese Zandere emphasized that poetry by composers who write songs with the lyrics of Latvian poets often comes to the public in this way.
According to Andris Zadovska, director of the House of Music, producer of the new album and concert program, this concert program has been played more than twenty times, but it has been released in a huge double album, accompanied by a book with all lyrics.
In one album entitled "Birds Songs" a song cycle was recorded, performed by Raimonds Pauls and Daumantas Kalniņš with the words of the poet Inese Zandere, and in the second album – a song selection from Maestro and Daumanta with the words of Latvian poets. They are played by Maestro Raimonds Pauls (piano), Daumants Kalniņš (voice), string orchestra conducted by conductor Kaspars Ādamsons, as well as the composition of accompanying musicians: Raimonds Macats, Oskars Sproģis and Artis Orubs.
Starting this week, the new CD will be available in Jānis Roze book stores throughout Latvia, as well as in music stores "Upe".
Source link