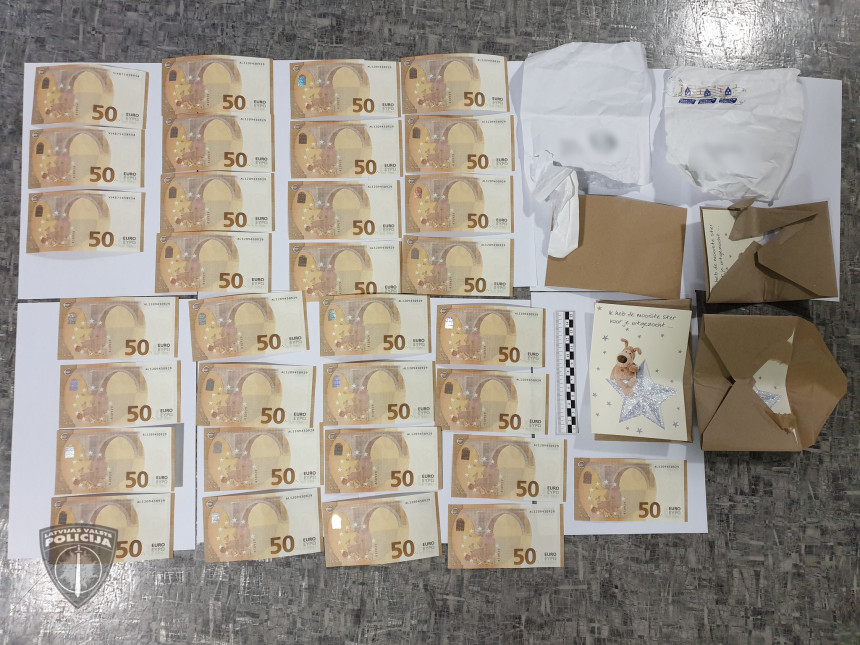 This month, the State Police detained three Latvian citizens who deliberately bought counterfeit money on the illegal foreign Internet sites and ordered mail from the Netherlands. In total 87 counterfeits in law enforcement have withdrawn 87 counterfeit banknotes, preventing their circulation. Criminal proceedings have been started in connection with the incident.
In January of this year information about the possible transfer of counterfeit money was received at Riga State Police Police Department. The employees of the district, in cooperation with the officials of the Customs Council of the tax authorities, at the first transfer from the Netherlands to the Latvian mail sorting center, found an envelope with fifty-fifty banknotes of 50 euros with signs of forgery, which were put on a greeting card. placed for masking purposes.
In cooperation with the officials of the Criminal Police Board of the State Police of the Riga region, it was established that three Latvian residents who bought counterfeit money with a view to realization were involved in ordering counterfeit money on the so-called DarkNet. Law enforcement officers arrested the recipient of counterfeit money and shortly thereafter two more men were involved, who were involved in the purchase of counterfeit money and subsequent sales. In search of houses and workplaces of detainees, another 32 banknotes of 50 euros, previously bought by DarkNet, were detected and removed from one of them. The investigation provided evidence that all three men had the intention to use counterfeit money in slot machines, as well as to pay for goods and services, and thus to exercise it.
It should be noted that most seized counterfeit banknotes have one serial number and no counterfeit elements – watermarks.
In connection with the incident, criminal proceedings have been initiated, which are qualified in accordance with Article 192 (1) of the penal legislation – for the production, distribution, transport, transfer, acquisition and storage of counterfeit and state financial instruments. The law provides for imprisonment of up to five years or a temporary deprivation of liberty, forced labor, or a fine for the seizure of property or forfeiture of property.
All suspects are subject to a non-custodial security measure. Investigations in criminal proceedings are being continued.
The national police regularly monitors suspicious Internet sites and activities of individuals to prevent the influx and spread of counterfeit money on the territory of Latvia and will continue to do so.
Source link