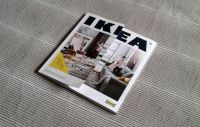 The publication of the first Latvian edition of the IKEA catalog for the inhabitants of Latvia has started. The directory, which & # 39; source of improvements to the interior and interior design & # 39; is with a density of 300 pages, will deliver over 400 thousand homes in two weeks in Riga and Pieriga.
According to Inga Filipov, the manager of the Ikea Latvia store, making the Ikea catalog mainly concerned people and how to improve everyday life at home: "This year, Ikea's catalog contains interior ideas and solutions for a wide range of properties, as living conditions of people and financial opportunities are very different.There were seven houses made for cataloging, so that everyone could see them close to them and find inspiration for beautiful transformations in their homes.The catalog gives the lives of different people again, taking into account their dreams and needs at home. "
The catalog summarizes the ideas of Swedish interior design, which can be redefined at affordable prices at home by arranging a very small home or a family home with children or another home. The results of the worldwide study "Living at home" are included in the catalog. The study was carried out in Latvia in July 2018. On average, every second respondent said she was satisfied with the layout of her home, but 6 of the 10 respondents indicated that their home needed to be repaired, and 75% of the respondents admitted that it had been postponed for lack of money.
This year, the IKEA catalog will be published in 50 countries in 37 languages ​​- totaling more than 190 million copies.
As you know, the store "Ikea" opens at Biķeru 2, Dreiliņi, the district of Stopinu on 30 August. The area is 34,500 square meters, but the store covers a total of 10 hectares. The IKEA store also has a restaurant with 450 seats, as well as a bistro and a Swedish supermarket.
Source link