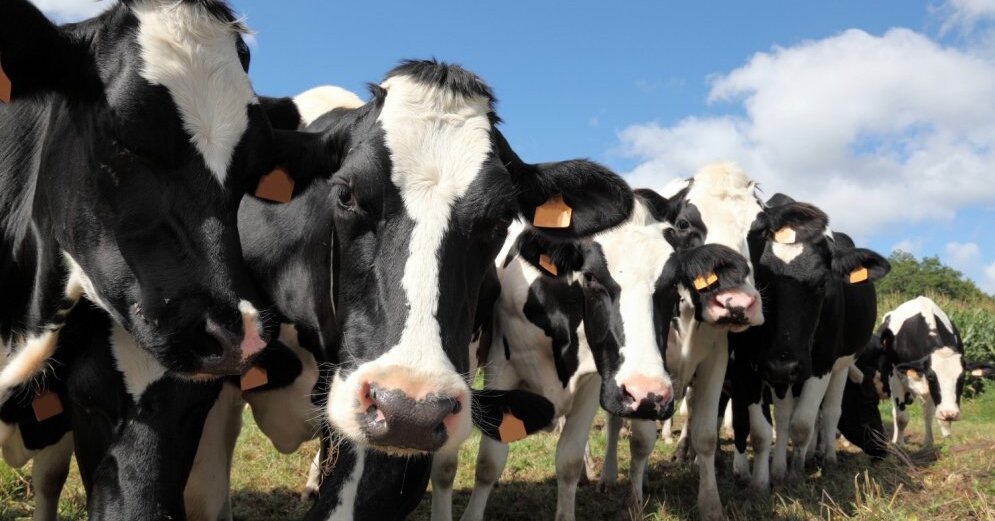 Due to the great drought, dairy farmers in many places in Latvia and almost very Kurzeme faced a lack of greenery, which is why many took silage shelves in the winter. For this reason, the food shortage crisis threatens to further deteriorate in the winter, and it can generate thousands of euros of unforeseen expenses or even losses for many farms, reports LNT News in six.
"It is possible to feed it both with a wall and with a straw, so that the cow will survive, but the milking will unfortunately not be sufficient, because there are important elements in the hall – proteins, energy. The drop will drop and if the milk yield falls, it can only be recovered a year if there is a normal diet, "says Oskars Tālbergs, owner of the" Kalni "farm, the Valdgale parish of the Talsi district.
The hay of the "Bergen" is always prepared on 100 hectares of its meadows, but now several dozens of wall rolls have been bought and will need more
To prevent the quality of the milk and the amount of milk absence of greasy food is lost, the Mugenieki, a nearby organic farm, is also hunted on silage stock in the winter.
"The food for the winter is already at a fairly high rate, the last rain is somehow out there, but relatively little, there are few feeds – only 50% collected from the need Gā, "says Janis Alhasovs, representative of Mucenieks.
In Muceniekos, as in other dairy farms, there are serious concerns that self-made fodder could end up halfway through the winter.
Moreover, it turns out that even straw or hay rolls to buy This season is very expensive. The price of one hay reel has more than doubled to 25 euros in the past 10 euros. This unscheduled spending of several thousand euros for each farm means an increase in the cost of milk. Since buyers of milk do not promise to raise the purchase price for every liter of milk, this means a freeze on development projects for farms or even a more painful step – reducing livestock.
"Only the best cows are in. The worst, with some minor problems, we are already slowly destroying," says spokeswoman "Mucenieku". He reacts positively to the fact that he is acting because of the lack of predicted food. The neighboring holding company also acts in the same way.
Dairy farmers in the Valdals parish in the Talsi district are still waiting for the purchase of finished silage. They hope enough on rainy days to let their grass grow slightly for cutting on their grass and at the last moment to be able to make silage themselves.
At the Rural Advisory Center, however, it is unlikely that the situation with dairy farmers in Kurzeme will be solved by 100%, because the vegetation period for the plants needed for silage can end in September.
Source link