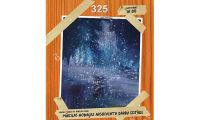 Cultural center Malpils on 2 September at 10 a.m. The exhibition "325" opens at 4 pm at the foyer and the exhibition hall on the second floor. This is a project that brings together 18 artists who have graduated from the art department of the music and art school Malpils and have linked their future path to painting, sculpture, graphic design, animation and other artistic techniques.
Twenty years after the first issue of the Malpils School of Art, a new generation of artists has grown up, the names of which have appeared in exhibitions and competitions here in Latvia and internationally.
The exhibition will show anime Melets animation "Kiosk", "Analysis Paralysis" and "Vilma today not work", Aneta Kalniņa works from the collection "Landscape – Abstraction", Liene Mackus sculpture "Famous place", as well as Darts Hapanionek, Ernest Austrin , Maija Mackus, Emily and Elvi Sulmini, Liga Mukāne, Rūta Jumīte Akeldamā, Arvda Kantiševa, Līga Blumberga, Arta Rejsel, Arta Kiršteine, League Bellamijs Kiršteins, Kristīne Nikandrova, Inute Graudiņa and Madara Namedas Zemīte.
"The name" 325 "is the standard size – the 325 cabinet of the music and art academy of Mālpils, which unites so many artists, is the space where everything began – the perspective, the cylinder, the light – the shadow, the ocher and the ultramarine blue in the large color bottles, "says exhibition organizers. He continues his career at the Riga Design and Art School, the Jaa Rozentàls Riga Art College, the Latvian Art Academy, the Baltic International Academy and looking for his own individual path, 325 is the common starting point for the teachers of Mara Ārēte, Indra Zvigule , Guna Petreviča, Inta Rulle and Esmeralda Tala.
The exhibition in the foyer on the 2nd floor of the Mälpils Cultural Center is open until 30 September and until 11 October in the exhibition hall.
Source link