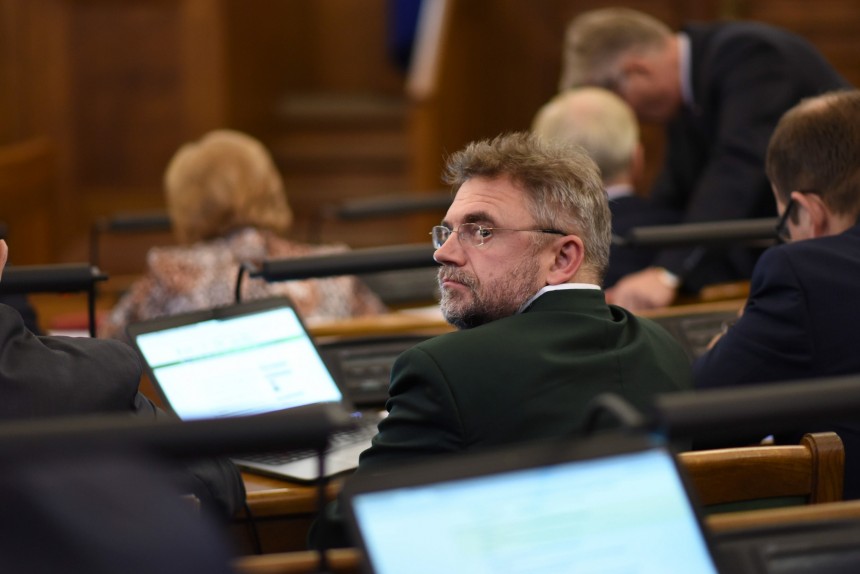 Askolds Klavins (ZZS), member of the Saeima, does not comment on the release of information in his criminal case.
Klavins told LETA that he would not answer questions related to the criminal case, as he signed a non-disclosure of information. Questions about this can therefore be considered as a provocation to commit a crime by saying unspoken information and adding the politician.
As reported, LETA has already said that the Attorney General's Prosecutor's Office refused to initiate criminal proceedings in July following a request from the investigator of the Corruption Prevention and Control Office (KNAB) to provide information in the case Kļaviņa. The Office has started a criminal case against the deputy of the Saeima Klavin for abuse of a state of service for a gracious purpose.
According to the information available to the LETA agency, in May the KNAB researcher sent a request to the Attorney General Ēriks Kalnmeieris that, in his opinion, the disclosure of information obtained from criminal proceedings before the trial was with Prime Minister Maris Kucinska (ZZS ). The case was only publicly announced on June 21, when the Saeima decided to agree to shake off the whereabouts of a member.
Kuchinsky, in turn, denied these accusations with the help of press secretary Andrei Vaivara. Vaivars emphasized that no statement on this point is justified and must be regarded as an element of the pre-election campaign.
On 2 July, after the inspection was completed, the Public Prosecutor decided to refuse to initiate criminal proceedings based on the absence of the composition of the crime provided for in Article 318 (2) of Criminal Law and Article 304. These articles of criminal law provide for liability for abuse of office and for the disclosure of information obtained in criminal proceedings prior to the trial.
The De facto television program reminded de facto last Sunday that at a time when the Saeima decided in June to give the KNAB permission to search for Klavin and a car, he himself in a debate from the stage had said he'd heard for a while that something like that would have happened.
Source link